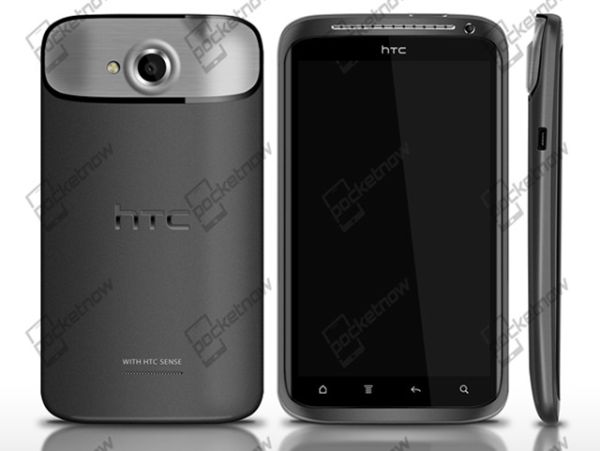 First look
The high-end smartphone market has heated up again and it seems that the dual-core phones are not good enough any more. Most companies will soon be launching their quad-core smartphone that promise faster execution and a more satisfying user experience. HTC Edge might be the first one in this race and offers impressive specs that would make you believe, you can run almost any app on your latest phone.
What's new?

HTC Edge is the world's first smartphone equipped with a quad-core processor. It would run on a 1.5-GHz Nvidia Tegra 3 CPU, which features four Cortex-A9 cores along with a fifth low-power core. Nvidia, earlier claimed that the performance of this new processor will be comparable to a PC and would enable some processor-intensive tasks such as high-definition video encoding and 3D gaming on the smartphones. Also, HTC is a no miniature device as it has a 4.7-inch screen capable of high-definition resolutions.HTC announced another phone last week called as Rezound with similar specs but with a 4.3 inch screen
What's been refreshed?

Edge, just like Rezound, has a HD display and would be running on the latest Android 4.0, also known as Ice Cream Sandwich. Nvidia's quad-core Kal El Tegra 3 processor was first launched with the Asus Transformer Prime, which is a tablet and Edge would offer similar performance on a smartphone. Other than that, it would also have a 8-megapixel camera with a back-lit sensor, just like its predecessor Rezound.
Features walkthrough
The 4.7-inch screen means a more satisfying user experience while browsing the internet or messaging one of your friends. The resolution of 1280 x 720 pixels, would enable users to watch high-definition videos on their gadget without compromising on the quality. The new processor AP30 Tegra 3 is rumored to be integrated with ULP GeForce GPU with 12 graphics processing units.The 1GB RAM and 32 GB internal memory means, you would never be short of space while processing or storing your multimedia files in the phone. It would board a 8-megapixels camera with f2.2 lens. It would be accompanied with an LED flash and would have auto-focus feature. It would have the latest updated Bluetooth 4.0 and its own Beats Audio technology that promises high-quality audio. The battery capacity is expected to be up to 2250mAh, which is similar to Galaxy S3.
What's good?

The quad-core processor means that the Edge would enable certain processor intensive tasks that could not be easily accomplished on smartphones before. This would involve tasks such as high-definition video encoding and 3D gaming. Besides this, the 21Mbps HSDPA promises to offer unmatchable speed over the internet. It would take advantage of new features introduced by HTC, such as Beats Audio and its different stores to listen to music, watch movies, reading books, etc.
What's not so good?

However, the hardware of smartphones is being upgraded at regular times, they are yet much slow than expected. Also with the increasing size of screen on phones and use of more powerful than ever processors, the battery life has come down. Although Tegra promises very low consumption of power as compared to standard processors, till what level it will be effective to give a longer life to the battery is yet to be seen.
Price and availability
There have been no speculations on the price, though it would certainly be above the $300 priced HTC Rezound. Also, the rumor regarding the launch of Edge is that it might be released early next year in one of the first two quarters.
Wrap-up
HTC edge would arguably heat up the war for high-end smartphones segment. Also, Nvidia has gone a long way from just a graphics-based company to a hardcore processor manufacturer for the mobile devices. Edge has one of the best specs and would offer am more powerful computing experience in your palm. Many people would like to get their hands to the first quad-core processor-based phone and HTC should expect a wide audience.