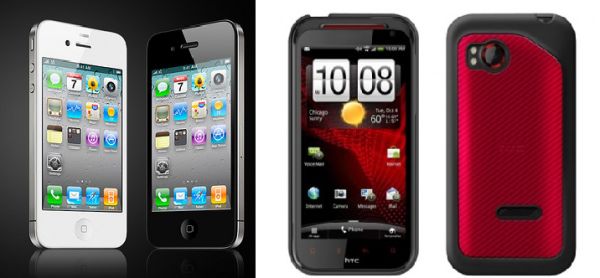 The original iPhone changed the smartphone game forever when Apple unveiled it on 2007. The world of technology has come a long way from down there and today's iPhones are not unchallenged in terms of usability and performance as they were back in 2007, before the launch of Android. Google did a heck of a job in between to oust Apple from its way and to gain the crown in smartphone market. HTC came with the first Android device in 2008 and still makes the most number of Android devices out there. Their newly launched Rezound handset is getting a considerable deal of attention from the crowd as it boasts of some flashy specs. On the other hand, Apple's flagship iPhone 4S is rocking the smartphone market all over the world with being on backordered in several countries. Today we will take a comparative look at these two new handsets, read on.
Comparison attributes
1. Display
HTC is still reluctant to use the Super AMOLED display technology on their handsets and continues to use either LCD or Super LCD screens. Rezound is not an exception and comes packed with a 4.3 inch Super LCD display with a resolution of whopping 1280 x 720, giving a pixel density of 342 ppi. Apple packs the same IPS based LCD panel they used on their iPhone 4 model, with the same size of 3.5 inch and resolution of 960 x 640, providing a pixel density of the same 330 ppi.
Winner
HTC made it quite hard to decide a winner in terms of display between the two handsets. Their Super LCD display is no slouch and offers superb colour, great contrast and brightness and an unmatched clarity with very high 342 ppi. But Apple's iPhone 4S packs a 3.5 inch screen which is easier to use with one hand and also packs an IPS based LCD which has several plus points over a traditional LCD screen. So we feel it is a tie, without a clear winner.
2. Operating System
HTC Rezound is running Android Gingerbread 2.3.4 which is the very recent version of the operating system. It also comes with HTC Sense 3.5 UI which is HTC's customization over the stock Android experience is widely acknowledged as the best Android skin out there. Apple introduced their iOS 5 operating system with iPhone 4S and while not a significantly update over the last generation like Google did with their Ice Cream Sandwich, it still packs some punch. The new notification center works well and voice recognizing personal assistant 'Siri' is a little gimmicky but very useful feature on iPhone 4S.
Winner
The winner in the OS section is also not very easy to choose. Apple has a very usable operating system with minimum amount of learning curve associated with it. But Android offers a lot more control over the operating system than iOS does and that is not something to forget. Also HTC offered update to Ice Cream Sandwich by next year which will be immensely helpful with the set of new features over iOS. So HTC Rezound takes the crown here but only by a slight margin.
3. Processor
HTC packed a 1.5 GHz dual core Scorpion processor, running on a Qualcomm MSM 8660 Snapdragon chipset and helped by Adreno 220 GPU. Apple takes the cue from their current iPad 2 hardware configuration and provided the new iPhone 4S with the same 1 GHz dual core ARM Cortex A9 processor which is underclocked to 800 MHz to save power and a dual core PowerVR SGX543MP2 GPU on top of Apple A5 chipset.
Winner
Apple takes the very successful iPad hardware and puts the same on their iPhone 4S, only to create another winner in the smartphone performance segment. iPhone 4S trounces almost anything present in current smartphone market with sheer processing power and GPU performance. None other than the Samsung behemoth Galaxy S II comes close to iPhone 4S in terms of overall performance and HTC Rezound does not stand much of a chance there. So the winner is Apple iPhone 4S here, without a second thought.
4. Memory
Android phones almost always offer expandable storage options and HTC opted for the same. Rezound is packed with 16 GB of inbuilt storage and has a microSD card slot to support up to 32 GB of additional memory and they also included a 16 GB card with the package. Apple never supported microSD cards on their mobile phones or tablets and keeping up with the tradition iPhone 4S only has options for 16 GB, 32 GB and 64 GB of storage. On RAM front, HTC kept the standard 1GB of RAM inside their Rezound while Apple chose to opt for 512 MB.
Winner
While the choice of 512 MB of RAM on iPhone 4S is not a fault as iOS is heavily optimized to use the available memory and using less amount of RAM also drastically reduces the battery drain. But Apple's lack of support for expandable storage is unreasonable and allows them to charge insane amount of money for their higher capacity models. Thus, HTC wins the round with their support of a total of 48 GB of memory on Rezound without a hefty price like iPhone 4S.
5. Battery
HTC provided a standard Li-ion 1620 mAh battery with their Rezound handset and it performs reasonably well to provide a day long battery life under standard usage which consists of calling, using Wi Fi and data transfer on LTE network etc. Apple's iPhone 4S packs a standard Li-Po battery with 1432 mAh capacity and thanks to the optimizations made in iOS 5, gives a proposed standby time of 200 hours and talk time of 8 hours over 3G.
Winner
While Apple's proposed backup times are pretty impressive, considering they are using a sub 1.5k mAh battery. But users are complaining all over the world about battery draining issues which do not provide a backup anywhere near the advertised one. Apple's latest iOS 5.0.1 did not solve the issue for the most and still keeps plaguing the users. Therefore, HTC takes the crown in this round again.
Winner
Both iPhone 4S and HTC Rezound provides some amazing features which make them pretty worth contenders against each other. While it was disappointing for most users when Apple did not announce a brand new version of iPhone aka iPhone 5 this October, iPhone 4S did improve the experience over iPhone 4. Rezound provides what HTC offered for its European and Asian customers, Sensation XL with Beats Audio experience. While choosing a clear winner is very difficult here, it is certainly not a tie.
Verdict
In our opinion, HTC Rezound offers a better feature set over iPhone 4S which is nevertheless a fantastic mobile device but sports a OS which, even with its latest version, started to show its age. Ice Cream Sandwich is imminent on Rezound and it will change the whole smartphone experience with better performances in almost every categories. So HTC Rezound is declared the winner.