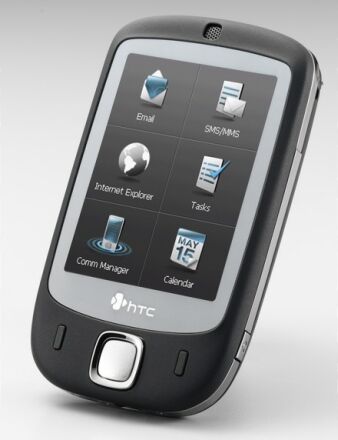 Known for its Windows based mobile handsets, HTC is adding one more new member in its smartphones portfolio. HTC has launched the Touch Cruise smartphone with in-built GPS for personal navigation and 3G technologies for high-speed Internet access.
The Touch Cruise is the third smartphone to be launched by HTC as part of its Touch product range, which includes the touch-screen-only Touch as well as Touch-Dual with a combined touch-screen and keypad. The HTC Touch Cruise is featured with touch-sensitive TouchFLO assisted fingertip navigation that allows users to browse web-pages, documents, messages and contact-lists. The HTC Cruise comes with TomTom mapping for personal navigation.
Like other Touch models, HTC Cruise model has 'home' screen, which reminds you iPhone Home screen. The 'home' screen has one-touch access icons for e-mail, text messages, calender, contacts and weather. The other features of HTC Touch Cruise model are given below:
1. Wi-Fi and Bluetooth
2. High Speed Downlink Packet Access
3. A 3G cellular technology that typically offers downstream data rates of up to 1 Mbps
4. It offers downstream data rates of up to 200 Kbps
5. 3-megapixel camera with auto-focus
6. FM radio and MP3 player.
7. MicroSD memory card slot that supports up to 128 MB of Random Access Memory
The Touch Cruise uses Microsoft's Windows Mobile 6 Professional operating system with Outlook "direct push" enterprise e-mail. HTC is releasing the HTC Touch Cruise in Europe.