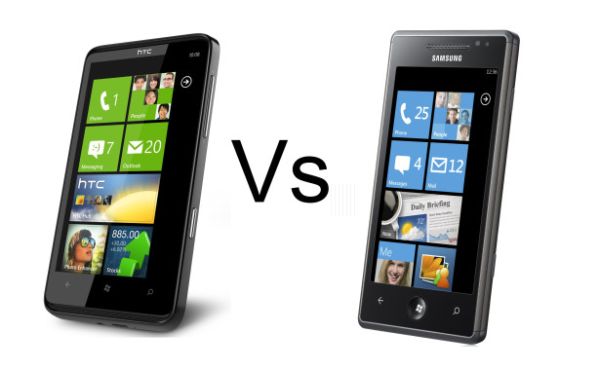 The challenge
HTC and Samsung are two well-known and highly popular brands when it comes to buying an Android or Windows phone 7. HTC's HD7 phone is a latest addition in the market with its latest Windows Phone 7 operating system and innumerable features. At the same time, Samsung Omnia 7 is also a good competitor for HD7 as it comes with similar features and other attributes. So, when have to choose between these two phones, which one will you select? Well, that is certainly a difficult question. So, let's compare them and their features to know who emerges as the winner.
Comparison Attributes
1. Camera
These days any phone would be ridiculed in the market if it doesn't comes with a good camera along with an LED flash. Both HTC and Samsung understand this and therefore, we have HD7 and Omnia 7 laced with 5 megapixels camera with LED flash. Both of these phones give great pictures and image quality. They can also record videos at 720 pixels high definition.
Winner: Surely, both are them are winner in this round considering that they enjoy similar specs. They both have 5 megapixel camera with similar video recording features.
2. Software
Both of them come with Microsoft's latest operating system Windows Phone 7 and therefore, they both have similar software. When it comes to processor, they both have single core processor that offers average responsiveness and processing under the frequency of 1.0 GHz.
Winner: Even on this factor both of these phones have a tie, as HTC is using Snapdragon chip and Omnia is using Qualcomm QSD8250 which is also a Snapdragon chip, making the two phones score just the same. The competition seems be going tough as they both have similar graphics and processing.
3. Screen Size
Again, both of these phones are nearly equal on this front with Omnia 7 and HD7 sporting over 4 inch touchscreen. But HD7 has a larger screen with a size of 4.3 inch while Omnia 7 is only 4 inch. Both of them have the same 800X480 pixels resolution, but Omnia 7's Super AMOLED screen is certainly better than the LCD screen of HD7 as it is brighter and vivid.
Winner: Omnia 7 is the winner in terms of quality while HD7 with its larger screen is the winner in quantity. But still, Omnia 7 manages to gain an edge over HD7 as it is slightly smaller and sleek than its competitor which also makes it more lightweight.
4. Pricing
Pricing certainly plays a crucial role when it comes to selecting a phone. The prices of HD7 aren't available yet but it would be approximately $400. Samsung Omnia 7 on the other hand would cost you around $359.
Winner: Evidently, Omnia 7 is cheaper on price than HD7. Therefore, Omnia 7 wins the round.
5. Target Audience
Both of them target similar audience. HD7 and Omnia 7 are for those who either want to experience the advantages of a Windows Phone 7 or are bored of Android and iOS. They both are a refreshing experience with good browsers and processors. Therefore, they can attract even a youngster or a business professional. The choice would purely depend upon the needs of the user.
Winner: The target audience is similar. A businessman can also use any of the two phones, while even a teenager can use them and find both of these phones interesting. So, both of them are winners here.
The verdict
Both of these phones offer stiff competition to each other. Although they operate on similar systems and processors, yet Omnia 7 is a little better when compared HD7 in terms of snapiness and responsiveness. They both have similar web browsing speeds of 7.2 mbps in HSDPA. They both are 3.5 generation phones. But at the same time Omnia 7 is lighter and sleeker than HD7. The camera for both the products is equally good. The Xbox Live Arcade facility of HD7 is an added advantage of the product.
Therefore, if you can spend a few more bucks, then buying HD7 is a better option. It has got more features on a larger screen. At the same time, if you are going for spending a little lesser, then Omnia 7 could be just right for you as it has great camera, better processing system and is overall a splendid phone.