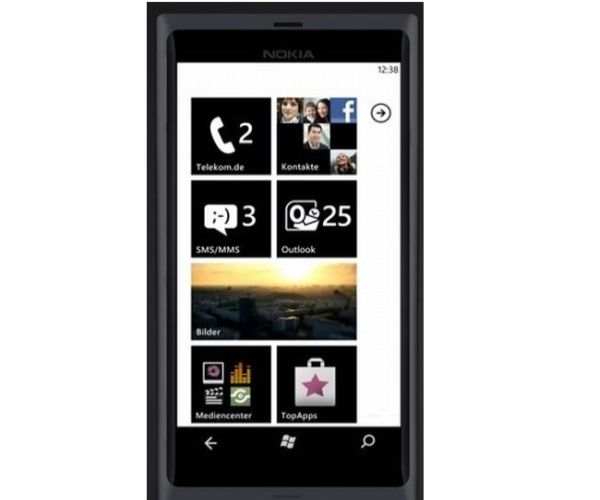 At the end of this month, Nokia will announce a Windows Phone 7.5 running Smartphone called Nokia Sun. Previously known as Nokia Sea Ray; this phone is a result of Nokia's much vaunted collaboration with Microsoft. The phone is very unique with its configuration, features, looks and operating system. It can be the turnaround for Nokia mobile phones and can give a tough competition to Android and iOS.
First look
Sun is the first Windows running Smartphone from Nokia, which is crafted in ergonomic pillow shape, based on Nokia N9. Made of deep colored polycarbonate, the phone is 12.1 mm inch (3.7 inch) and weighs 124g.
What's new?
This will be the first phone from Nokia having the operating system from Microsoft-Windows Phone Mango 7.5. The phone will come with a micro SIM card that will be a premiere for Windows Phone devices. Apart from that, it will use a Carl Zeiss lens in the camera, which is not present in any of the Window's phone. Now, we can expect some tough competition for Android and iOS for the first time.
What's been refreshed?
The phone surprisingly looks similar to Nokia N9. Apart from the look, it sports many features including screen and camera that are already seen in Nokia C7 and C8. However, it will feature a camera shutter key that is not present in N9.
Features walkthrough
Nokia Sun will come with Windows Phone Mango, 16GB of onboard storage, 1.4GHz Snapdragon processor and 3.7 inch AMOLED screen. Apart from that, it will ship with an eight MP auto focus camera having Carl Zeiss lens and 1540 mAh battery. The camera also sports f/2.2 aperture and a performance focused dual LED flash that can get every detail for you. These are some of the common features; the most interesting one is here-Sun will come with a micro SIM card rather than a regular sized card. Phones with micro SIM car are still very less in numbers, Nokia has only one-N9 that runs with MeeGo.
It would use the Windows Phone Mango 7.5, which means there will be many other apps and features combined with the operating system including, People Hub, MS Office Hub, and Xbox live. Internet Explorer 9 that promises a better experience and 25 GB Sky drive storage might be the main attraction.
What's good?
The phone features Windows Phone Mango, that boots and works very fast. Therefore, we can expect a great functionality from the mobile. Eight-megapixel camera with dual LED flash will be a great benefit and will work well. We have seen many Nokia mobiles with same camera that can give digital cameras run for their life.
The display looks very crisp and the build as well as dimensions of the phone looks very attractive and stylish. Overall, Sun is a nice piece of kit with superb hardware, software and style.
What's not so good?
The phone has typical Nokia hardware that might match with that of the hardware configuration of the mobile market leader Samsung. Apart from that, we cannot say much about the negative sides of the mobile. We have to wait for the release, after that we will in a better position to talk about the negative sides of the mobile. Stay tuned for more information.
Price and availability
The phone will be available in the last week of November in Europe and may be Australia. In Australia, it will be offered by Vodafone, Optus and Telstra. In Europe, this phone will be sold in Franc, Italy, Spain, UK, Germany and Netherlands by some of the network providers including, Orange, Vodafone and Movistar.
Wrap-up
The phone looks promising as far as the look and specifications are concerned. After a long time, the Nokia seems to hit the bull's eye in both hardware and software. If we talk about competitors of the company, Apple has not impressed its fans with the latest version of iPhone (iPhone 4S).
The only other real competitor comes from the search engine mammoth Google. With the release of latest version of Android (Ice Cream Sandwich) loaded Smart phones, Google is looking for a huge response and sales figures from the market. However, if everything goes right for the company, the competition of Smart phones will no longer be the horse race between Apple and Google.