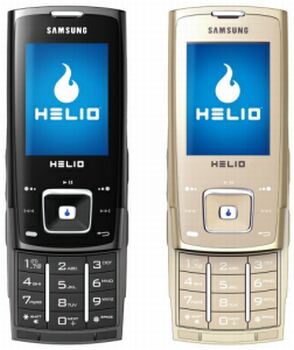 Helio has introduced the thinnest mobile phone in the US. The Fin has ultra thin design with blue-black magnesium body. The stylish body comes with Helio's full line-up of 3G content and services, including MySpace on Helio, GPS enabled Google Maps for mobile, YouTube, HelioUP for instant uploading of photos and Video to YouTube, Flickr.
Helio's Fin offers a variety of messaging suit, which combines Instant messages, text messages, picture messages and e-mail in one ultimate inbox. Helio is also debuting Garmin Mobile for GPS enabled voice guided navigation with the addition of customizable RSS feeds to Helio on Top, which allows members to sign up for updates on news and information.
In addition, the Helio phone incorporates a 3 mega pixel camera with 100MB internal storage. It has facility to extended memory up to 4GB with a microSD slot. The features of Helio Fin are given below:
1) A 2.3 inch QVGA display
2) It has in-built Photo Studio for high quality photos and video
3) An HTML browser
4) It supports to audio formats, including MP3 and AAC audio
5) The device also supports video formats, including MPEG-4 and H.264 video
According to Sky Dayton, CEO of Helio, the company is launching one of the thinnest mobile phone is the market. Fin is smart, fast and powerful and it is so enough to fit in your pocket.
Image Credit: Engadget
Via: Tech Gadgets