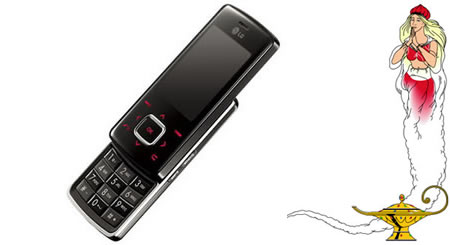 Mobile phones boasting about some multifunctional global positioning systems, GPS, are thronging the markets already. Nevertheless, this cellphone by LG is excessively different from the contemporaries as it incorporates the latest breakthrough in the GPS technology – location based service (LBS). With this cellphone concept, a user may virtually find his way through any place on planet.
Check out what Park Dong-uk from the LG institute has to say on this –
It's like a Genie living inside a handset, instead of Aladdin's lamp. Technologically speaking, the solution is not so difficult thanks to the fast wireless data transmission of today.
Industry specialists opine that our very own mobile phone would be one of the lethal combinations of a communication device as well as a navigational device in the 'not very distant future'. It would guide us through various road maps and topographical co-ordinates acting as one of the best ever car navigation systems.
The researchers also prophesize that a cellphone would become more like a personal navigation device when it would get the 'high-speed downlink packet access', HSDPA, technology. I thought we had seen every possible concept in the cellphone industry but now I consider that notion of mine to be absolutely wrong!
Via: Fareastgizmos