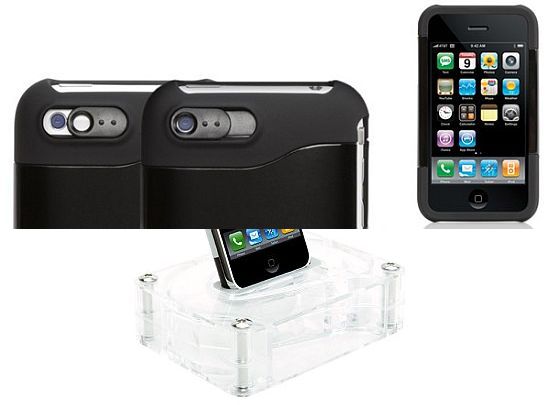 Target consumers: IPhone users
Should they buy it? Yes
Why? Griffin has lunched two innovative accessories for the iPhone – AirCurve and Clarifi. If you don't want to spend your money on speakers for amplifying the sound blaring from your iPhone then AirCurve could help you. The sound waves emanating from the built-in speaker of the iPhone is routed through the waveguide of the AirCurve to amplify sound without any power requirement. We have come across a variety of iPhone cases but what makes Clarifi stand out in the crowd is its built-in lens equipped to enhance the resolution of the iPhone camera. Simply by sliding Clarifi's lens the focus of the camera could be manipulated sharp close-ups.

Technical Specifications: AirCurve is made of durable polycarbonate, has no power requirement and includes pass-through for Griffin Dock Connector Cable.
Clarifi has a protective polycarbonate case and a close-up built-in lens.
Pricing and Availability : Both AirCurve and Clarifi will be available from Griffin for $19.99 and $34.99 respectively from October.
What others are saying? Charles Starrett of iLounge writes
AirCurve…is a unique clear polycarbonate acoustic amplifier designed to provide more powerful sound from the iPhone's built-in speaker without the need for added electronics.
Regarding Clarifi he observes
Clarifi… enhances the macro and close-up functionality of the iPhone 3G's built-in camera
About AirCurve, Cnet writes
While the acoustically amplified sound is not as loud as that made by electronic amplifiers, it's loud enough for you to enjoy music in a quiet room or to use as an alarm clock.
About Clarifi Cnet writes
The Clarifi protective case is also supposedly the first case for iPhone 3G that sports a built-in lens to give the phone's camera an optical boost.
Via: EngadgetMobile