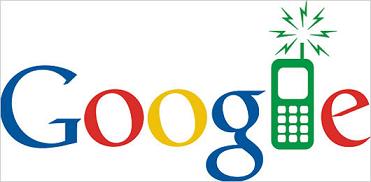 Globally renowned Internet company Google Inc recently announced the launch of mobile software under the name of "Android". The company further said that it would also keep the software open source so that independent designers can make modifications.
What started off as a hobby search engine, Google Inc now controls nearly half of the most popular websites in the world. On November 5, Google Inc said it would offer a software system to make the Internet work as smoothly on mobile phones as it does on computers, seeking to speed up change in a tightly controlled industry.
Putting long-term speculations to rest Google officials said they would start next week by allowing independent software designers to work and modify "Android" and that Google-based mobile handsets would be available in the market within the 12 months.

Google mobile will initially be available through Deutsche Telekom's T-Mobile only. Other leading mobile companies worldwide including the world's largest mobile carrier, China Mobile Ltd; Japan's NTT DoCoMo and KDDI and European and Latin American operator Telefonica also said they were working with handset makers to develop Google-based phones.
Google said it has no short term plans to manufacture phones of its own, but it has signed up agreements with over 33 companies, including phone makers Motorola Inc Samsung Electronics Co Ltd and High Tech Computer Corp to manufacture Google-software based phones.
We're hoping thousands of different mobile phones will be powered by Android,
said Eric Schmidt Google Chief Executive soon after the announcement.
According to Schmidt Google was in no hurry to make operators alter the way they charge for service, but new ways of making money such as advertising-subsidized offerings would eventually be possible.
Let's put the technology enablers in place and figure out how to monetize it later. You won't see a completely ad-driven cell phone on this system for some time,
said Andy Rubin, in charge of Google's mobile phone operations.
We are going to offer the software for free and I am hoping that operators may pass along something like 10 percent savings to customers through phone subsidies or lower monthly fees. We are also looking to sign revenue-sharing agreements with service providers who agree to lower monthly data charges,
said Rubin.
This move from Google is posing a challenge to worldwide mobile conventions. According to company sources, Google aims to expand the range of Web services it now offers for computer browsers to the far-larger mobile phone market, where Internet use is being hindered by numerous conflicting handset designs and software standards.
This move by Google is seen as radical by industry experts, because by announcing this, the internet major is pitting itself against mobile operating systems backed by Nokia, Microsoft Corp and Google partner Apple Inc. Though several companies among Google partners said they would still work with rival operating systems.
The Traditional domination of network operators' tight control over software and services that customers can use on their phones is now being challenged. The old model ensured that network operators often made a hefty cut of resulting revenue from third parties.
According to Google, Android has been programmed not to differentiate between a phone's system software which is pre-installed by handset manufacturers and any independently created applications added by customers later.
Market analysts are estimating that Google's new offering will be popular and within a year will establish itself firmly in the phone space. Strategy Analytics, a research firm estimates that Android would be in 2 percent of smartphones by end of 2008. Smartphones are expected to be about 6 percent of the total U.S. phone market this year, according to Yankee Group.
The potential is there for this to be a game-changing development, but it remains to be seen. This is a set of tools that have to be turned into something.
said Greg Sterling, an Internet industry analyst with Opus Research.
The future Scenario
The aim of Google and its supporters is to bring in a radical change in the way internet works on mobile phones. They want to make internet browsing as easy and cost effective on mobile phones as on a computer. This will take lot of efforts and work but then with millions of programmers ready and willing to mix and match products with other software, it seems practical and possible.
According Rubin, a veteran Silicon Valley gadget designer, Android is also programmed to work offline, allowing air travelers to, check address books mid-flight.
Google's own mobile phone
The market is being flooded by rumours that Google is itself working on a new class of free or low-cost ad-supported phone of its own, known as the "Gphone."
Though CEO Schmidt did not rule out Google developing its own hardware but he reiterated that there was no immediate plans to do so. The company said its alliance, known as the Open Handset Alliance will be like an "open source" software project, with no central leadership.
Android is based on Linux technology that allows hardware or software makers to adapt it freely.
Source: Deccan Herald