Alright, we agree! The recent reports and eagle-eyed spotter were absolutely right. You indeed get 5 gigabytes for gratis (no jokes here) across Google products. Ok, for all of you who are still 'at sixes and sevens,' Google has just launched its new cloud service and has also stepped into retail phone business. Surprised, aren't you?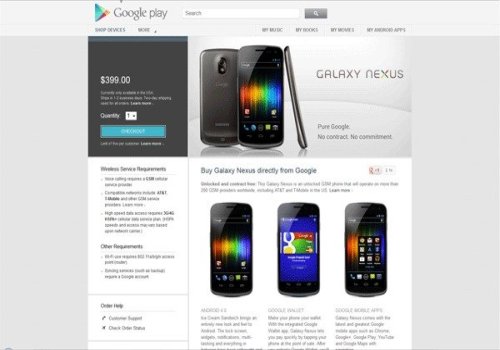 Well, the gigantic search engine will now be selling its Galaxy Nexus smartphone pretty much directly to users through Google Play marketplace. The unlocked device shares compatibility with T-Mobile, AT&T and other GSM service providers. However, those on Sprint or Verizon will simply have to arch their shoulders.
Powered by Android 4.0, the device will be featuring the very same specification list as ones sold with contracts have. But so far, Galaxy Nexus is the only smartphone that snoozes comfortably under the 'Shop Devices' tab of Google Play. If interested, you can head towards the marketplace and snap it up for about $399.
What's more, the company has released Google Drive too, whereby users are endowed with a seamless capability to share and collaborate in real time on presentations, documents and spreadsheets. In fact, users can even access their content on Android, iOS, Mac, or PC. With integrated Google Docs support, the app further makes it simpler for you to access your content anywhere and share them with unprecedented ease.
The new Google Drive Android app can now be downloaded for absolutely free, whereas 'upgrades' will be asking you for some money. On the other hand, Google has imposed certain purchase restrictions as far as their Galaxy Nexus is concerned. If you go by what it has to say, you can buy a maximum of five Nexus units on Google Play. Users could be held responsible for violation of their policy if they're found snapping up more via multiple Google Accounts, .
Via: LATimes