Phones have come a long way from being just mere gadgets to call or send text messages. Now, it is safe to say that they have taken over the computers. The Windows phones that have launched this year were very much popular among the masses. The following phones are the best Windows-based phones of 2011 that we have listed for you in our gift guide.
1. HTC HD2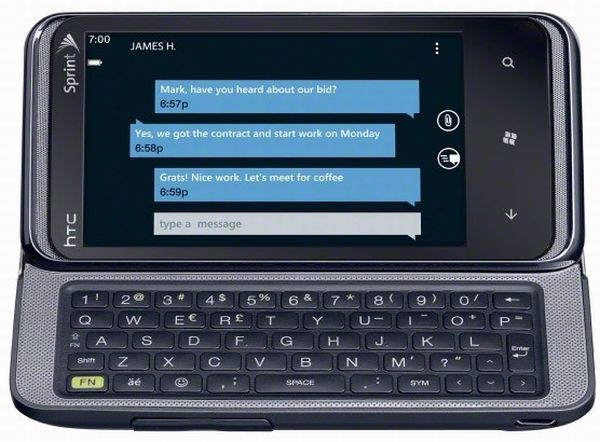 The HTC HD2 absolutely has no close competition in today's world when it comes to reigning supremacy as the best Windows Mobile phone one can buy today. If we talk of networking and media playbacks, the Sense shell software does a great job. The HD2 presents the best amalgamation of plastic, aluminum and glass that has ever been applied to a communication device yet. The backside is sleek and appealing with only a slightly protruding camera lens capturing the images for the HD2's 5 megapixel camera. Now going by the inside, there is a 1GHz Snapdragon processor which is assisted by 448 MB of RAM. The HD2 possesses all other features of Smartphone including GPS, facial proximity sensor, along with Bluetooth 2.1 capability. The device is priced at $499.99
2. Dell Venue Pro
Dell Venue Pro with Windows Phone is a Smartphone that helps you multitask and be more efficient in how you stay connected and entertained. The 4.1″ display is covered with slightly curved gorilla glass that both looks and feels great. The sides of the phone have a chrome metallic look and the back has a texture rich plastic cover with a repeating cut diamond pattern. The top and bottom are beveled with a rubberized coating. The outside of the phone might win beauty pageants, but the internals were a big question mark. The device has a 1GHz processor. The amount of RAM in the device is of 512MB of RAM. The keyboard on the device is high quality each of the buttons has a satisfying click and travel distance. The call quality on the phone is a notch above average. There haven't been reports of any significant call drops. All well but the camera remains the most disappointing aspect of the phone. This DELL beauty is priced at $267.99
3. LG Quantum C900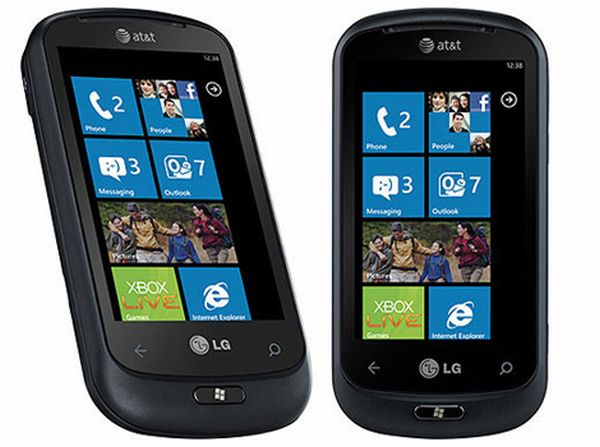 Hardware wise the phone seems very well built: it feels heavy and sturdy; also fewer moving parts will probably mean fewer problems down the road. This 3G enabled Windows Phone 7 Smartphone with 3.5 inch touchscreen and a slide out full QWERTY keyboard is very handy. The Windows Phone 7 OS provides easy access to social networking, personal/corporate e mail, office apps, Xbox LIVE games, streaming media and many more. There is a 5 megapixel camera with HD 720p video capture; 16 GB internal memory; Wi Fi networking; Bluetooth stereo music; GPS for navigation and location. This creation from LG is tagged at $199.97
4. Samsung Omnia 7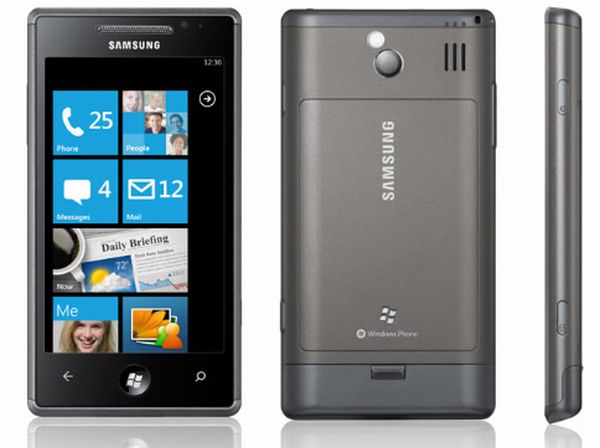 Samsung OMNIA 7 offers a slim, unique design with enhanced usability that packs in it all the wonderful features of a Smartphone; starting from Xbox Live gaming to Zune music enjoyment, from advanced camera functions to comprehensive media sharing options. The OMNIA 7 offers SUPER AMOLED Display: The brilliantly large 4.0″ SUPER AMOLED display is the epitome of mobile viewing. Brighter, less reflective and slimmer than general AMOLED display, SUPER AMOLED provides you with unmatched luminescence, vivid eye catching colors and super fast response. The inbuilt Zune music player transforms music and video on a phone to be a beautiful immersive experience. This Smartphone will cost one $289.99.
5. LG Optimus 7 E900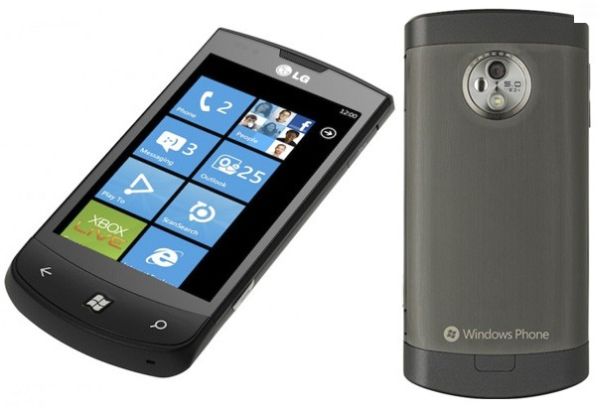 LG's first windows7 phone is LG E900 OPTIMUS 7 is their first pawn in the game. However "pawn" hardly describes the rich feature set of this player. LG has done its best to set the OPTIMUS 7 apart with great build quality and some subtle but useful software perks. The OPTIMUS has the following features- 3.8″ 16M color capacitive TFT touchscreen of WVGA resolution. A Quad band GSM/GPRS/EDGE support, 3G with HSDPA (7.2 Mbps) and HSUPA (5.76Mbps),Windows Phone 7 operating system, 720p video recording @ 24fps,16GB of built in storage. The phone has a number of disadvantages the memory is not expandable, the average quality of display is poor, there are no stereo speakers, there is no lens protection. This phone has got a price tag of $434.26
6. HTC 7 Trophy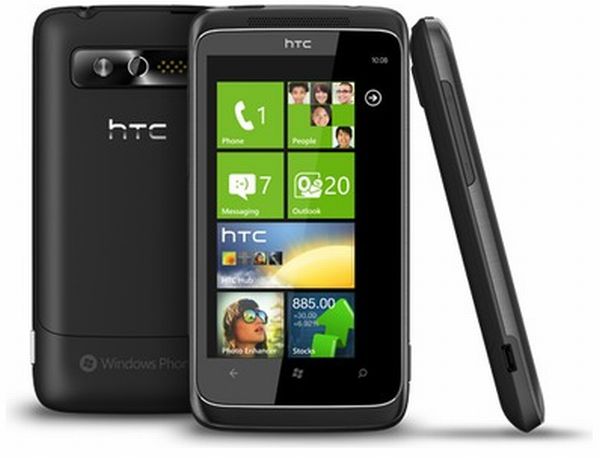 This is a mobile that is meant for the gamer with the XBOX live and serious processor muscle. The HTC trophy has a 3.8 inches touch screen with pinch to zoom capability. The High fidelity sound, the Sound Enhancer app delivers virtual surrounds sound and equalizer sound effects for a richer listening and viewing experience. Equalizer presets automatically mix bass, treble and vocal levels for maximum effect. There is also multi touch input method. The phone is really a trophy to posses. The phone is priced at $469
7. Samsung Focus
The Samsung focus is an ultra thin 3G enabled Windows Phone 7 Smartphone with an amazing 4 inch Super Amoled touchscreen. It has a 5 megapixel camera with HD 720p video capture; an 8 GB internal memory; there is an option for microSD memory expansion; one also gets Wireless N Wi-Fi; Bluetooth stereo music and last but not the least, GPS for navigation purpose. What is new is that in place of the common icon displays on the Start screen, as is customary in a normal phone, this Windows Phone 7 uses Live Tiles, which allows one to find out what's going on, what's happening next, and what he has missed without having to open an application. The display and the tiles theory makes this phone somewhat unique and gives the user something new to experience. The battery life is good not great. The sound and picture quality is also very good.