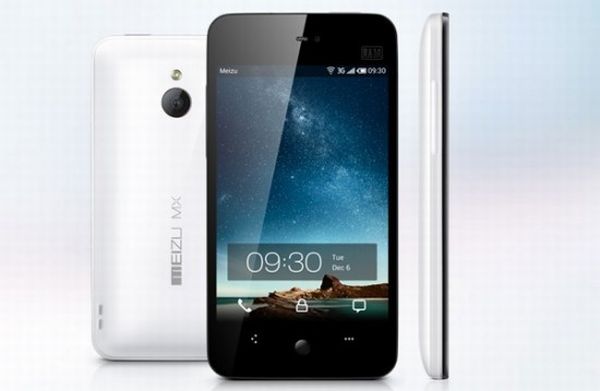 First look
After a lot of speculations, Chinese mobile phone manufacturer Meizu has lately spilled the beans of its upcoming flagship smartphone called the MX. It will be available in two flavors -16GB and 32GB. The former is a dual-core variety and will be available at a price tag of $470 USD while the latter boasts of quad-core processor and will be available at a price tag of $625 USD. Both the smartphones will sport A9 CPUs and 4.3 inch qHD displays. The 16GB dual core model will hit stores at mainland China on 1st January 2012 while no launch date has been announced with respect to the quad core model.
What's new?
1.4GHz Samsung Exynos 4210 dual core chip.
What's been refreshed?
On the multimedia front it has native support for FLAC audio plus various video formats like MKV, MP4 and AVI; along with a micro-USB port that supports S/PDIF digital output, USB host plus MHL; and an eight megapixel f/2.2 backside-illuminated camera (which does smile detection and panorama shot) with 1080p 30fps recording.
Features walkthrough
Meizu's latest offering MX is preloaded with a host of up to date features and specifications. These include 4 inch ASV display, 960×640 pixels resolution, dual-core 1.4 GHz Samsung Exynos processor, 16GB internal storage, 1GB LPDDR2 RAM, 8 mega pixel rear camera along with LED flash, auto focus and 1080p High Definition video recording, 1,600 mAh battery, 0.3 MP front-facing camera, and microSIM card slot.
The list of features does not end here. It also includes Android 2.3.5 operating system, FLAC audio, MP4, AVI, MKV, micro-USB port, panaroma shot, smile detection, various video formats, noise cancelling microphone among others. Its internet connectivity includes GPRS, GSM, WCDMA, EDGE, Wi-Fi, HSPA, Bluetooth and EDR for the wireless file transfer. Its operating system will be updated in the future to Android 4.0. The Meizu MX is 10.3mm thick. Features like headset jack and Radio to name a few are not available in this handset.
What's good?
Specs are this device's claim to fame featuring a 4-inch 960×640 ASV display, 1.4GHz dual-core Exynos processor, 1GB of RAM and 16GB of internal storage.
What's not so good?
At this point of time it is difficult to say about it.
Industry buzz
Meizu's latest Android handset MX is the perfect combination of style and function. The handset takes off from popular devices like Samsung Galaxy S and iPhone 4 while adding heavy customization layer above Android. The 10.3mm thick handset will be preloaded with 3G with HSPA+. The phone will get working with the help of a micro SIM. It also packs of micro-USB port which will support both USB host and S/PDIF digital output. It will offer ample media sharing and connectivity options like MHL, coaxial digital output, among others.
The home buttons in this handset have been replaced with an optical track pad while the capacitive buttons on the other hand are responsive to orientation. This interesting handset will only be available in China and Asia. People living elsewhere will miss the golden opportunity to try their hands at this exciting and innovative handset. But there are fair chances of Android phone lovers to import this device from elsewhere.
Price and availability
It costs $470 and will launch next year in January.
Wrap-up
This Chinese flagship smartphone will keep China entertained and busy for the whole of 2012. This smartphone will be marketed for the masses as a dream smartphone and its features and specifications too are pretty interesting. Its design is extremely clean, minimalistic and intuitive. The first 2 letters of this handset MX has been borrowed from Chinese characters meng xiang or dream. As the name suggests, the Meizu MX is likely to be this year's dream phone for China. It will offer better readability both in landscape as well as horizontal mode. It packs with the company's unique Flyme OS that features custom designed UI and cloud services like data syncing, application market and music store for China only.
With the launch of MX, the Chinese mobile phone manufacturer will make its first step towards the international market. Later this month, Meizu will open a store at SaiYeung Cho in Hong Kong. The MX handset which will be launched in Hong Kong will boast of a couple of extra features. These include access to social networking sites like Facebook and it will also support other features like Google Mobile Services along with a variety of Android Market apps which will not be available in the original version of the MX.