It is really easy and fun to play games on your smartphone. The evolution of technology allows us to burn time in an enjoyable way. However, what if your smartphone is too small for your taste? No problem.AirConsole allows you to play your favorite games on a much bigger platform. In fact, you can use your desktop monitor as your screen while your smartphone serves as your controller. More than that, this video game console has revolutionized the way you play online games.
More importantly, it's 100% free!
How Does AirConsole Work?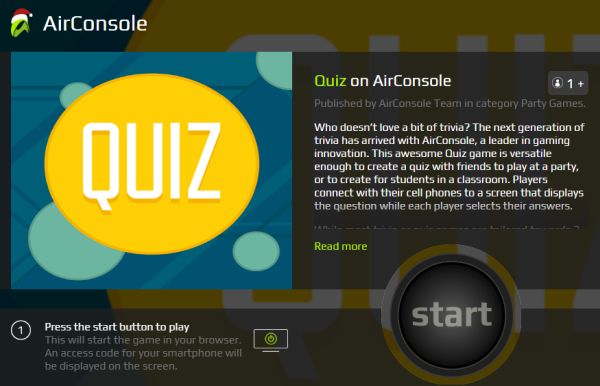 So how does AirConsole make use of your phone and monitor at the same time? When you hit the green button on their website, it will display a numeric code. Next, you need to do the same on your smartphone. It will sync your smartphone and computer so that you can begin playing. As a result, you will have a bigger screen while having the controls on your very hands. This unique online gaming platform has over 40 games, and they add new ones all the time.
Let's take a quick look at some of the popular games you can play on this platform effortlessly:
Quiz Game
Admit it or not, we love trivia and quiz games as they bring out our inner geek. AirConsole has the best quiz games for the next generation. AirConsole has found a way to convert it into large scale platform.
Inside the Classroom
Can you imagine the fun of playing trivia games inside a classroom? Since you can easily sync desktop monitors and smartphones, projecting the questions is very convenient. In addition to that, it is a fun and exciting way to learn history, chemistry, and other subjects. Even younger students will enjoy taking advantage of the new technology while learning at the same time. More importantly, this new platform attracts the attention of students since it is something new. Finally, teachers can pop up a quiz anytime without the need for questionnaires and answer sheets.
Party's On
Quiz games are not just for classrooms; they are for parties as well. Now, you can introduce games that your colleagues have not done before. Aside from corporate gatherings, you can include quiz games from AirConsole in birthday parties, bachelor or bachelorette parties, and much more. The possibilities are endless. A simple synchronization of your smartphone and monitor can add a fun twist to any occasion.
New Games Every Week
If you are getting tired of all of your "usual" games, AirConsole has the perfect solution. They introduce new games every week. Aside from the typical trivia, they also have Bingo, Karaoke, Mockingbirds, and so much more. You can also choose categories ranging from racing, sport, action games, and even arcade. AirConsole is the only thing you need for unforgettable parties with friends and family.
Good Time All the Time
With AirConsole, a dull moment is impossible. Using any of the games available on their site, good time with friends and family is guaranteed. Besides, there's no need for costly equipment, huge props, and setups. With over 40 games to choose from, everyone can participate and play. Since they are adding new games every week, you don't have to repeat the same game over and over again.
So what are you waiting for? The fun never stops with AirConsole.
Press that green button now — start, connect, and play.
Article Submitted By Community Writer