The whole dust has now settled; the much-awaited Samsung Galaxy S3 has been uncovered. As we all expected, the South Korean tech giant wrapped off curtain from its brand new third generation Galaxy S Android phone at the Samsung Unpacked event in London. Well, many rumors the gossip cannons fired up have almost come true with the new Galaxy S3. The Android 4.0.4 Ice Cream Sandwich handset will now be available for grabs in the Europe on May 29. Sorry, others can wait a little bit.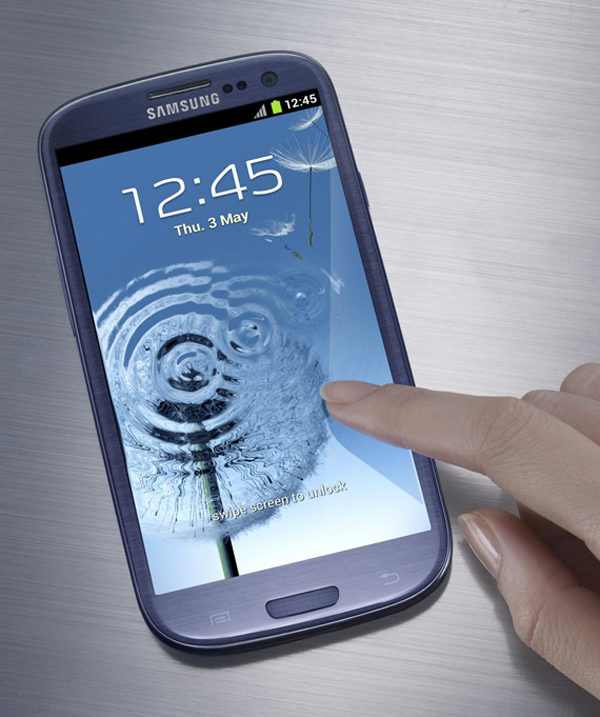 Galaxy S3 will come equipped with a robust quad core 1.4GHz Cortex A9 CPU with Samsung's much-touted Exynos 4212 Quad chipset. It will indeed make the handset a good performer and a worthy competitor to the Nvidia quad core powered devices like the HTC One X and others. Well, as we hoped, the Galaxy S3 also sports a large 4.8-inch High Definition Super AMOLED capacitive touchscreen, which packs 720 x 1280 pixels and is secured by Corning's Gorilla Glass.
http://translate.google.com/translate?sl=auto&tl=en&js=n&prev=_t&hl=en&ie=UTF-8&layout=2&eotf=1&u=http%3A%2F%2Ftechblog.gr%2Fmobile%2Fsamsung-galaxy-s-iii-official-02010%2F&act=url
Unfortunately, the Galaxy S3 has only an 8-megapixel rear camera in the long run. It was rumored to get a 12-megapixel or higher camera. The device can record video at 1080 at 30fps and there is a 1.9-megapixl front camera for making video calls. The handset is further powered by a 1GB of RAM and three onboard memory options; 16GB, 32GB and 64GB.
For connectivity, Samsung hasn't skipped anything to add to the new model of its flagship Android phone. The S3 touts a/b/g/n Wi-Fi, Bluetooth 4.0, NFC, TV-out, GPS, USB-on-the-go and others. A powerful 2100mAh battery will power up the gadget, which will further have the usual TouchWiz 4.0 UI, DivX/Xvid codec support, Swype text input etc.
Via: TechBlog