If you're talking about commuting large distances nothing beats Indian Railways. Going by air was a good option few days back but the soaring prices of air tickets will make you think twice.Thanks to the IRCTC (Indian Railway Catering and Tourism Corporation) portal you can book your tickets months ahead without having to stand in long queues. Though booking a ticket on the portal itself is no less (around 3.65 lakh tickets are booked online on daily basis) than a challenge as the site is mostly busy and it might take you a whopping 10-20 minutes to book a ticket. In such cases apps installed on your phone will make your task easier. Below we have listed seven Android apps to help you book your railway ticket.
Indian Rail Info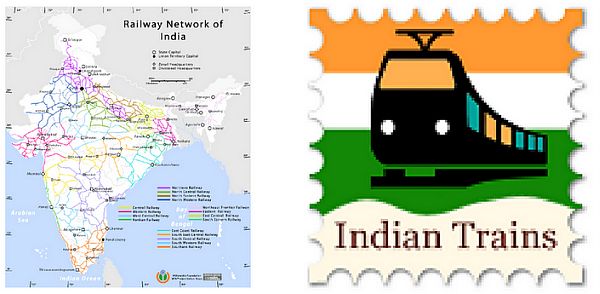 The app is a complete database related to Indian railways and yes it is better than the governments official portal. Just type your source and destination and the app will give a complete list of trains that ply between these stations. Not only it gives the names of the trains, but also their expected timings of arrival at different stations as well as the travel charges. You can know the number of seats available as well as your PNR status using it. The app is all and everything about Indian railways that gives you the info at a much faster speed than the IRCTC website.
Indian Rail PNR status enquiry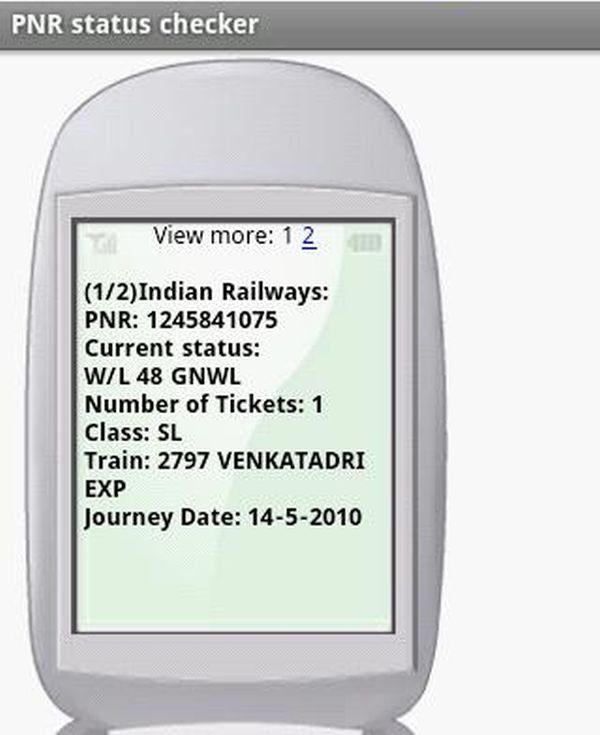 So you booked your ticket at last but only after being part of a long waiting list. You open the railways portal every week to know the current status of your ticket. Sometimes it makes you happy knowing that the waiting list is shrinking quickly with time while at other times you get nervous as your day of departure approaches and still you are far behind securing your ticket. This app will come to your cure in case you're suffering from this ticket mania. It is a simple app where you add your PNR and it gives you the current status of your ticket. The app uses smileys intuitively to cheer you up though you might get server busy message only to check the status after some time.
ngpay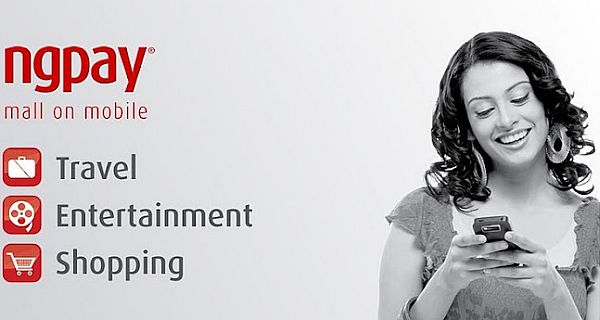 There was a time when you had to stand in long queue to get a ticket, followed by online booking of tickets and the future is mobile banking and payment services that will help you make your payments through your debit/credit card or Netbanking through your phone itself. Just install this app on your phone, search your train, book your tickets, make payments, send your tickets to your mail and you're done with your ticketing process using your phone. Ain't it really simple.
ATOM Railway Ticket Booking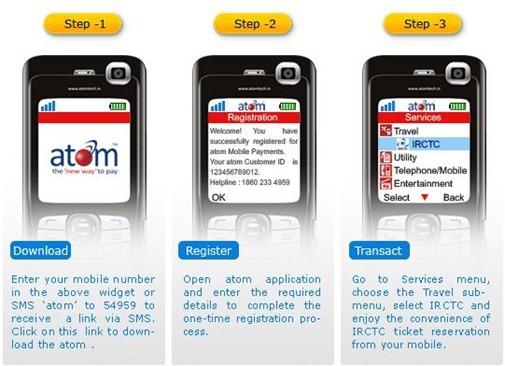 ATOM is another mobile payment gateway that offers you the luxury of booking your ticket online using your phone. It supports a multitude of phones and is not just limited to the smartphones. All you need is a good GPRS connection that doesn't break while making payments and your overall experience will be hassle free.
IRCTC Mobile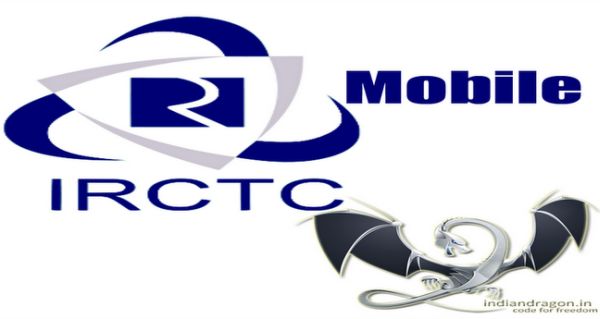 IRCTC Mobile is the gateway to IRCTC mobile site and offers the distinct advantages of better data caching and optimized scrolling on your phone. You can book tickets, cancel them as well as check your PNR status using this simple app. What distinguishes it from other is its ability to browse the website in Landscape/Portrait mode and an Early Notification System that tells you in advance whether or not the IRCTC site is online. Though its name might mislead you to beleive that this is IRCTC's official site, we would like to inform you that it is not so.
Indian Railway Train Alarm

You do need to get alarmed while traveling through Indian Railways as they are quite infamous for not being punctual and may spoil your whole planning in case you're dependent on another transport to reach your destination after boarding off the train. The app will keep you informed about the train timings much in advance and would avoid any last moment panics. It sends you the confirmation message in case your ticket is confirmed. Besides that you can of course book/cancel tickets, search trains etc. using this app.
Indian Railway app- Disha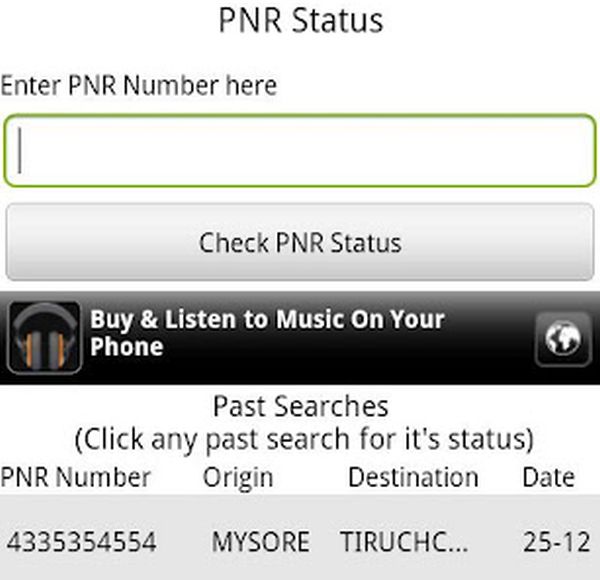 Disha might remind of you of all the beautiful chics in your school or college with the same name but in this case it will remind you of your ticket status and will inform you whether or not your train is on time. Find about the available seats, fare and share the PNR details and seats availability via email or SMS using this application.