Just when almost everyone's done with playing their best cards before the year's end, Fujitsu has forayed yet again. After developing an advanced interchangeable lens system almost two months back, the company has now announced their latest Arrows Z ISW11F smartphone from Fujitsu Toshiba Mobile Communications.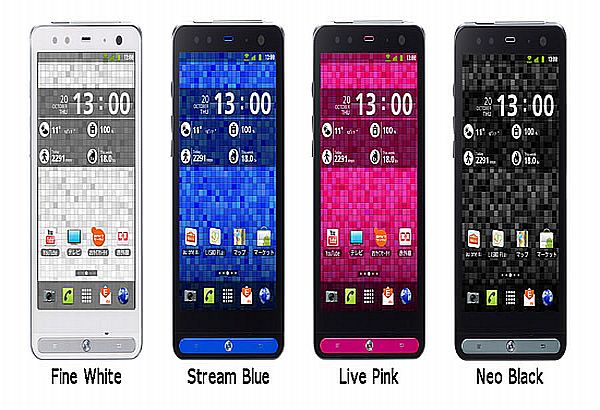 Infused with advanced technologies, the new mobile device stands distinguished for merging the endless possibilities of three high speed enhancements. The sleekly designed water-resistant WiMAX smartphone pushes performance speed even higher by integrating the high end 1.2GHz dual core processor and high speed communication services. By playing on the latter, users will be enabled to conveniently download their content and applications with unprecedented speed and ease.
There's an amazing 4.3-inch quick response HD touchscreen that not only lends support to a full spectrum of 16.77 million colors, but also allows you indulge in incredible viewing clarity. Touted to be Fujitsu's flagship model from the smartphone range, the new SW11F also catches attention for integrating dust and water resistance technology. The embedded protection technology comes out as an additional advantage for users who need to travel back and forth while ensuring that their smartphone stays thoroughly safeguarded.
At the same time, for users who believe in cherishing their good times in crystal clear quality, Fujitsu has included an outstanding 13.1 megapixel camera. The experience of photography only gets better with the exclusive Milbeaut Mobile image processing engine and Exmor R. Features such as art camera mode, chrome key mode and automatic scene recognition are comprised too.
Users can now seamlessly immerse world class speeds and have their data-intensive content and videos downloaded within just seconds. The embedded DTCP IP-compatible DLNA connectivity, on the other hand, enables users to view H-Vision streaming video of terrestrial digital broadcasts from anywhere in the home. Enclosed in a sleek, eye-catchy chassis, the brand new Arrows Z ISW11F also boasts of its unique super resolution technology and mobile texture realizer.
The feature-loaded smartphone further enhances the entire journey of dousing in multimedia and entertainment through pre-installed TSUTAYA TV video on-demand service application. By taking advantage of which, users will be enabled to watch their favorite flicks or television shows and movies on the device's massive 4.3-inch full color high definition display.
Some other highlights that make Z ISW11F really special are DiXiM Home Network Application, HDMI output, continuous talk time of up to 380 minutes, standby time of up to 360 hours, 1.3 megapixel front-facing CMOS camera, and human centric engine for intuitive stability. The device also comes enriched with hand-written input functionality, Fujitsu Mobile Integrated Dictionary+ and Ultra Integrated Search Engine that zoom on leveraging the overall user experience.
Weighing as light as just 131g, the new Fujitsu Arrows Z ISW11F will knock the shelves across Japan starting December 17, 2011. Although the pricing details are yet to be divulged, the phone will be coming in four great shades of fine white, live pink, stream blue and neo black.
Source: fareastgizmos