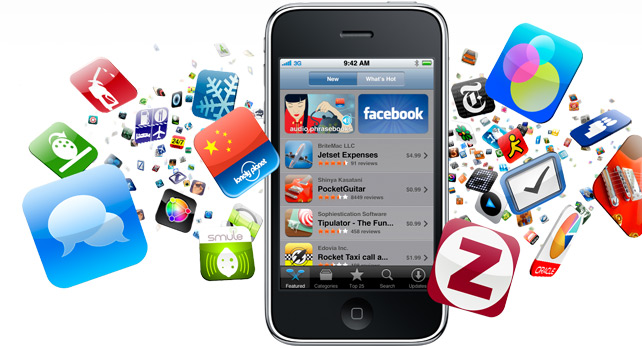 Cellphones are not anymore used as calling devices only but they have become important gadgets that can entertain you in your leisure time or when you are on the go. A variety of applications have emerged in the last few years that have converted cellphones into entertainment gadgets. The cellphone companies have developed markets that provide a number of free applications and services that have converted cellphones into workstations and amusement devices. Although you can find millions of free applications but some of them are definitely apart from the rest and make your cellphone more productive and enjoyable.
1. One of the best applications for your cellphone is Shazam. It is currently available for iPhone and Android phones. It is used to analyze the audio track you are listening to and identify it and finally gets the details and links to buy the song. Thus you may not stand baffled after listening to the song to know which track it was.
2. Google mobile is another great application that has been developed for all mobile platforms that are present at present. You can search any query on this official search engine and it does remarkable good. It is a light application and runs even on slow processor phones. Google mobile application is considered a revolutionary search engine in the present decade.
3. Google map is considered the best application to view maps online. It is also useful to locate important places on the map. You can use it for locating an ATM or restaurant or a fuel station or other locations at a specific place. It also locates your position on the map either through internet connection or GPS. The best thing about this application is that it has been developed for all mobile platforms and you need not to pay a single penny to get it.
4. 'Angry birds' is a mobile application developed for iPhone and Android based cell phones. It is a most downloaded game on the android market and a top rated application. You will never get bored playing this game and opening new levels. It always keeps you interested and engulfed.
5. Layer reality browser provides augmented reality of the real world situation. The augmented reality looks almost real and is a great application to use on your phone and can be a great help for people travelling abroad. Presently it is available for Android cell phones but the developers are working to build different versions for other platforms.
6. Opera mini is the best browser for mobile phones. It is widely used applications throughout the world and renders data very fast and is good for downloading data on the cell phones. The browser is fast and does not the deteriorate quality of the rendered data. A large number of variants of the application are accessible and the browser is available for most of the mobile platforms present in the market.
7. Evernote is the mobile application that can be used to record the notes or sync the documents on the mobile to the remote computer. It is a useful application and presently available for iPhone. The application is being developed for other platforms also.
8. Think office is the best office application for cellphones. The best thing about the application is that it is a single suite that can cater to the needs of all office documents coupled with it and it can also be used as an opener for pdf files. The application is presently available for Android phones but will be available for other platforms soon.
These are the must have applications on your phone and you must try them and enjoy the extended functionality of your cellphone.