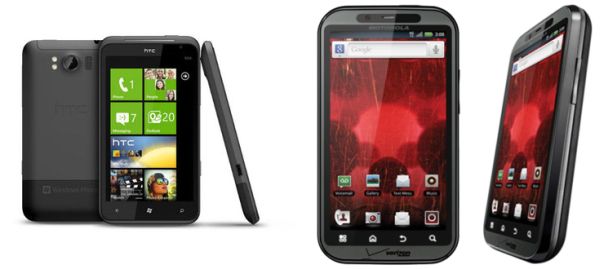 The Challenge
Unlike yesteryears, choosing a perfect smartphone that fits you is not a casual visit in the market anymore. While for the last few years we have two major mobile OS players in the market, namely iOS and Android, today Windows Phone is making its presence felt stronger than ever before. While Apple does not allow even a little bit of fragmentations that can occur to their iOS operating system, Google and Microsoft's strategy is completely opposite as they let their software to reach different sectors of the market simultaneously with availability of plethora of devices running their operating systems.
Today will pit two such mobile handsets that run two completely different operating systems – one from Google's foray into smartphone world, Android and another from Microsoft's 'Put people first' Windows Phone. While both launched within a gap of one week at the beginning of September this year, HTC Titan (running Windows Phone 7.5) and Motorola Droid Bionic (running Android Gingerbread) do not share an optimistic appraisal of brotherhood. Let's see how these two giants fare in common grounds.
1. Operating System
As the article was started with the mention different operating systems, let see first what our two phones are holding in their guts. Titan is HTC's flagship Windows phone now, running the latest and greatest version of Windows Phone, which is Mango or 7.5. On the other hand Droid Bionic is also the latest in Droid line that is available on the market and runs Android Gingerbread or version 2.3.
Verdict
While it is not exactly possible to pit Windows Phone and Android against each other without being biased as both of the operating systems perform fantastically well, I personally like the improvements and new features brought forward by Microsoft's latest and greatest. Microsoft's attempt to create a radically new smartphone environment with METRO ideology is simply fabulous and works without getting in the way of users. Android Gingerbread is pretty old now and already being replaced by Android 4 or Ice Cream Sandwich.
2. Display
One of the first things that you will notice after turning on the phones is their displays and both the makers are doing their best prove themselves in this arena. True to its name, HTC Titan sports a giant 4.7" Super LCD screen which is relatively unseen in popular phone arena. Motorola is on the standard side with its 4.3" TFT LCD that is on par with most of the current generation phones. While Titan's Super LCD brings the best out of today's LCD technology, Droid Bionic's TFT LCD does not stand a chance. On the other hand, Titan's display has really low PPI (Pixels per inch) of 198 while Droid Bionics shows off a really high 256 PPI screen.
Verdict
While the Motorola Droid Bionic has got a fantastically sharp screen, the use of older TFT LCD technology is a major disappointment. HTC Titan excels with their huge Super LCD screen that brings the best out of current-gen LCD technology and does not underwhelm with its sharpness at normal viewing distance which is more because of the big 4.7" screen. Therefore, HTC Titan scores here in terms of display.
3. Processor, GPU and RAM
HTC Titan comes with a 1.5 GHz Qualcomm Scorpion processor with Adreno 205 GPU and 512 MB of RAM. Motorola included a 1 GHz dual core ARM Cortex A9 processor with PowerVR SGX540 GPU and 1 GB of RAM.
Verdict
While the raw performance count does put the favor towards Droid Bionic, Microsoft has worked fantastically hard to optimize their Windows Phone operating system that works without any lags on the HTC Titan even with the half of RAM of Droid Bionic. This puts HTC Titan on the top even with rather paltry hardware in comparison with Droid Bionic.
4. Photo and Video
HTC used a primary camera with f/2.2 lens, auto focus, dual LED flash and back illuminated sensor with resolution of 8MP. On the other hand, Motorola's Droid Bionic contains a standard 8 MP camera with auto focus and LED flash.
Verdict
HTC Titan wins hands down in shooting stills with its fantastic primary camera but can't shoot full HD videos like Droid Bionic. That means with Titan, one is restricted at shooting a maximum of 720p videos at 30fps while Motorola Droid Bionic can shoot full HD 1080p videos at 30fps. For the people who love video shooting, this can be a huge deal breaker so there are no clear winners in this arena.
5. Battery Life
HTC put a 1600 mAh battery in their Titan handset that has a talk time of 11.8 hours and standby time of 15 days. Motorola Droid Bionic features a 1735 mAh battery with 10.7 hours of talk time and only 8.1 days of standby time.
Verdict
As HTC cleverly put a fast but single core processor and less amount of RAM in their device, it works wonders for a battery life in terms of talk and standby time. Motorola's bigger capacity battery does not bring anything new to the table as the dual core processor and 1GB RAM sucks most of the juice out even when not in use. Titan comes out as a clear winner here.
Winner
Comparing all the basic prime features for both of the phones, it is pretty clear that HTC's Titan has definite plus points that make it a solid device. While Motorola Droid Bionic is also a good device on its own, it just does not beat Titan with usability or any other prominent features.
Final Verdict
Unless you are a worshipper of Android and do not like Windows Phone at all, there are no reasons why you should not go with HTC Titan. The bigger screen, faster processor and lot better battery life surely stand out for Titan. But if you are looking for more apps and the Android environment suits you better, then Droid Bionic is the one you should go for.