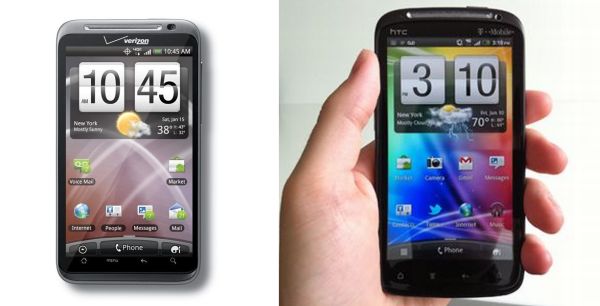 The challenge
HTC is definitely one of the best mobile phone makers in the world at present. The build quality of HTC products, design, display & audio and longevity are some things every smartphone makers out there are envious of. HTC's Android lineup is also the most comprehensive and offers a plethora of choice for almost every segment of the smartphone market. Today we will pit two of their best Android smartphone offerings against one another and they are HTC Sensation 4G and HTC Thunderbolt. Read on.
Comparison attributes
1. Screen Size
HTC Thunderbolt is the older one among the two and has a 4.3 inch standard LCD TFT screen with a resolution of 480 x 800 pixels, effectively providing a PPI of 217, exactly same as that of Samsung Galaxy S II. On the other hand, newer HTC Sensation 4G has a Super LCD screen of the same size of 4.3 inch but an increased resolution of qHD or 960 x 540 pixels, giving a PPI of 256. Both the screens support multi touch input and covered with Corning Gorilla glass.
Winner
Definitely one would choose a screen with better technology, more pixels and more clarity. HTC Sensation 4G is willing to provide all of those, with a 256 PPI screen with Super LCD technology that is significantly better in terms of performance and battery life in comparison to traditional LCD TFT screens.
2. Software
HTC Thunderbolt was released earlier this year and was shipped with Android Froyo or v2.2 installed on board. HTC also provided their famous skin named Sense on the top of Android in Thunderbolt and it comes with Sense v2. Newer HTC Sensation 4G comes installed with next version of Android namely Gingerbread or v2.3 and is accompanied by Sense v3 which brings a number of improvements in terms of usability and performance.
Winner
Gingerbread is still the best released version of Android and coupled with Sense v3, it simply rocks! 'HTC Sensation 4G' wins hands down in the software department.
3. Connectivity
While both HTC Thunderbolt and HTC Sensation is equipped with 4G technology, Thunderbolt lacks GSM support and only has EVDO and LTE connectivity. Thunderbolt comes with a Qualcomm baseband that is the first with LTE/3G multimode support. Sensation 4G supports HSDPA and HSUPA with speeds as high as 14.4 Mbps. On the other side, both the phones support standard Wi Fi b/g/n, Wi-Fi hotspot feature and DLNA. Thunderbolt still has the older Bluetooth 2.1 + EDR support while Sensation comes loaded with newer and faster Bluetooth 3 with A2DP support.
Winner
Thunderbolt is the first LTE/3G multimode supported phone and the LTE speeds on Verizon is blazing fast and way better than Sensation 4G's HSDPA speed. In regular real world tests Thunderbolt showed an average download speed of 18.3 Mbps and upload speed of 7.4 Mbps which are more than impressive. So, Thunderbolt easily trumps the competition here.
4. Camera
HTC Thunderbolt and Sensation 4G again has another point in common, both of their cameras use the same 8MP sensor which is supported by autofocus system and dual LED flash. Geo-tagging, face detection and touch to focus are present in both the phones.
Winner
While spec wise both the cameras look identical, Sensation 4G uses a backlit illuminated sensor which offers better low light performance over the Thunderbolt. Sensation's camera also supports instant capture which effectively reduces the camera shutter lag to near zero, allow the user to shoot without hitches. Therefore, Sensation 4G wins again.
5. Price
Amazon is offering the lowest price on HTC Thunderbolt at $0.01 with a Verizon contract. On the other end, HTC Sensation 4G is available on a two year contract from T-Mobile at $199.99.
Winner
There is nothing more to say, the numbers talk about themselves and Thunderbolt takes the crown in price segment.
6. Battery life
HTC Thunderbolt has a standard Li-ion battery with a capacity of 1400 mAh and gives 330 hours of standby time and 6.5 hours to talktime. Sensation 4G comes with a more capacious 1520 mAh battery and offers 400 hours of standby time and up to 8 hours and 20 minutes of talk time which is impressive considering how fast 4G devices drain battery.
Winner
Modern 4G devices are really sucker for battery power and lasts just under a day with standard usage. Sensation 4G's bigger battery helped a lot to ease the situation and offers a pretty decent standby and talk time for a 4G based phone. Bigger battery and better talk time supports Sensation 4G to win this round.
7. Target audience
Being 4G phones, both of these HTC handsets are primarily targeted at the users who wants the fastest available data speeds on their mobile phones. But the phones are not just limited for that. Both the phone offers considerable multimedia performances and the medias look pretty on both screens.
Winner
Although both the smartphones are quite efficient in giving a smooth and likeable multimedia performances, HTC Sensation 4G's Super LCD screen with bigger resolution turns up the whole display segment to a whole new level, helped by the new and refined features of HTC Sense 3. Today's smartphones are lot more than just companions that makes office jobs easier and Sensation 4G wins big time in here.
The verdict
While both the phones have their definite plus points, it is up to the users on what are they looking for from their new smartphone. If a big screen with screaming fast data speed and decent performance in day to day tasks are the things they want then Thunderbolt is the way to go. With blazing fast data speeds over LTE, Thunderbolt treads speed over battery life and loses points in other segments. Sensation 4G is, on the other hand, an all-around well-built phone that will satisfy most of the users in long run with fast performance and better battery life and a gorgeous screen that packs a lot more pixels than Thunderbolt.