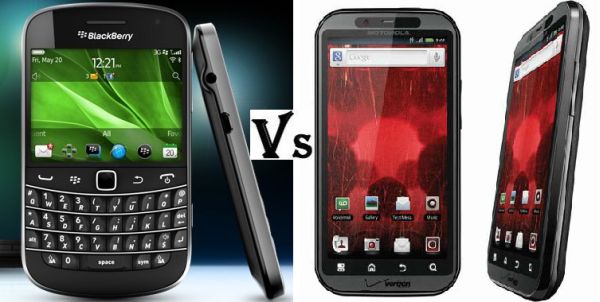 The challenge
BlackBerry Bold 9900 is a fresh version of Research In Motion's BlackBerry smartphone lineup. The device is up with a QWERTY keypad and touchscreen, which makes it a special product. The new BlackBerry phone is there with an excellent keyboard, outstanding touchscreen and the latest BlackBerry OS 7.0. However, in comparison with many Android phones and Apple iPhone, BlackBerry Bold 9900 does not live up to the expectations.
Here is a detailed comparison of BlackBerry Bold 9900 with one of the market's most hot Android smartphone, Motorola Droid Bionic. Motorola realized its much-awaited CES 2011-announced Droid Bionic in September this year. The device has been touted as the first dual core 4G LTE smartphone on Verizon Wireless. Just go through the article to see which of BlackBerry Bold 9900 and Motorola Droid Bionic worth your money.
Operating System
BlackBerry Bold 9900, as mentioned above, is up with BlackBerry OS 7.0, the new version of the famous BlackBerry OS. But Motorola Droid runs on Google Android OS 2.3.4 Gingerbread. A competition between Gingerbread and Blackberry OS will indeed make the former a winner, because it is more feature-rich and advanced rather than the latter.
Size
Size and dimension of a smartphone are two important factors that any buyer will consider seriously before taking a final decision on a device. BlackBerry Bold 9900 is lighter and thinner with a dimension of 115 x 66 x 10.5 mm and weight of 130 g. Motorola Droid Bionic is having a dimension of 127.5 x 66.9 x 11 mm and weight of 158.8 g.
Display
BlackBerry Bold 9900 features a 2.8-inch TFT capacitive touchscreen with a resolution of 640 x 480 pixels. It has proximity sensor and touchscreen controls. Meanwhile, Motorola Droid Bionic has a more superior 4.3-inch display with a resolution of 960 x 540 pixels. Droid Bionic offers multi-touch input method, accelerometer sensor and proximity sensor.
Memory
The BlackBerry smartphone has an 8GB storage internal storage and 768 MB of RAM. Droid Bionic offers 16GB internal storage, 1GB of RAM and 2GB of ROM.
Camera
BlackBerry Bold 900 sports a 5-megapixel camera with a resolution of 2592 x 1944 pixels and LED flash. But the rear camera of Motorola Droid Bionic has an 8-megapixel sensor and it is with auto focus and dual –LED flash. The new trend on smartphones is to have an 8-megapixel camera. Even Apple iPhone 5 is whispered to mount an 8-megapxel camera.
Battery
Thanks to its Li-Ion 1230 mAh, BlackBerry Bold 9900 offers up to 6 hours 30 minutes talk time. In the meantime, Motorola Droid Bionic is far advanced with a Li-Ion 1735 mAh that offers up to 10 hours and 40 minutes talk time. Long battery life is a great feature that can entice most of smartphone customers. All customers wish to operate their handsets without the frequent need to charge.
Winner:
Based on this comparison, the winner of Motorola Droid Bionic and BlackBerry Bold 9900 is certainly the former one. The advanced Android Gingerbread smartphone noticeably stands out its rival in all major parameters from screen size to battery life. More memory and better camera make Droid Bionic an incredible product. The device is blessed to have Gingerbread as the operating system.
The verdict:
Motorola Droid Bionic has been much late to the market after its official announcement in January this year. The Libertyville technology maker, which was recently taken over by Google, showed off Droid Bionic as the first dual core 4G LTE smartphone on Verizon at CES 2011. The device was then set to appear in market in April. But the company unprecedentedly delayed its release for some so-called hardware and software modifications.
Of course, as a result of the modifications, we now have an incredible dual core Android smartphone on Gingerbread. But many impatient customers went for alternatives like BlackBerry Bold 9900 and other Android smartphones during the period. RIM, on the other hand, is in attempts to retain its previous dominance in smartphone market with a far advanced touchscreen plus QWERTY keypad version of its BlackBerry smartphone.