Do you worry about your privacy or security while visiting locations on your iPhone frequently? However, it will be a relief for users concerned about maintaining their phone usage private. Apple compiles and stores data of the locations you have visited, which many a times is essential for a few applications that are used to calculate the travelling time and distance. Many apps use such data that is stored on your phone. It syncs with the application and makes its usage easier and faster.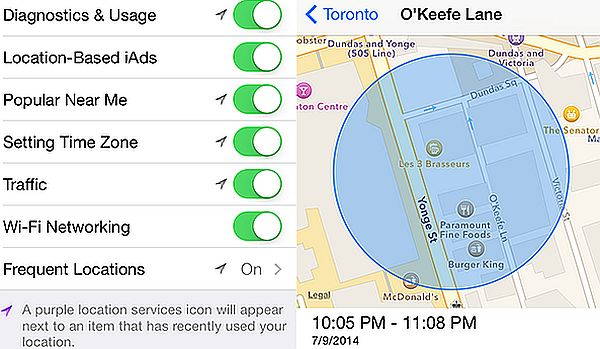 iPhone users certainly are at an advantage when it comes to disabling the frequent locations you visit while using the phone. Many like keeping it private while many find it as a security concern. However, Apple users have the option to disable the locations frequented on their phone, which also include date, address, time and so on. Apple stores all these data generally, since the 'Frequent Locations' feature was introduced in their iOS 7 version.
Here's how to disable the "frequent locations" function of the phone.
Go to settings
Tap on Privacy
Tap on the Location Services
Tap on System Services
Tap on frequent services
Toggle the frequent locations off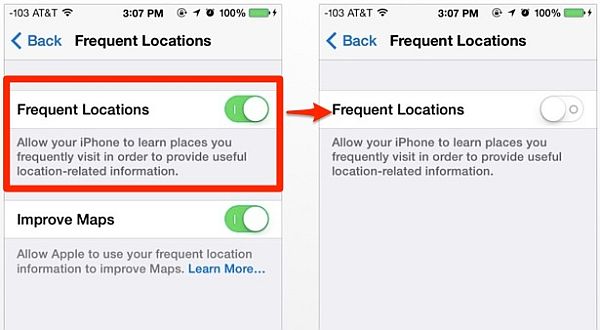 However, one thing needs to be understood is that Apple has installed this feature in the phone to customize your usage. It helps in calculating the distance while travelling, and might be useful for several other applications that use this data. If this feature is disabled, the location history is deleted. This in-turn affects the functionality of the iPhone. Hence, disabling the feature is advised if you are concerned about the security. Many a times, it does not ascertain utmost security issue and hence can be avoided.
Following are instructions to clear Frequent Locations History on the iPhone:
Repeat the above steps
Scroll to the History option
Click on the clear history option
This user-friendly option is certainly a must-have. However, it also has a disadvantage in which you need to frequently update your apps, which keep a note of the travelling time and distance.
Summary
"Frequent Locations" can be disabled using the above easy steps. You need not worry about any one spying, or data harvesting the locations you visit anymore.