Tablets are everywhere at the moment, with everyone seeming to own one. It's easy to see why though, as they're really useful for work and entertainment and you can carry them around easily with you which make them even better.
If you don't have one, the good news is that they're dramatically reducing in price too, which is great if you'd like to get one. You can even get the best tablet computers online now at sites like Electric Shop, too.
There are also loads of really cool accessories you can buy to amplify your tablet experience, and we've rounded up 8 of our favourites to show you.
1. Drummerz tablet drumsticks
We thought we'd start off with a silly (but obviously cool) one. Turn your tablet into a drum kit with your very own tablet drumsticks. They are 'made from state-of-the-art conductive elastomeric materials, making them flexible, safe, and sensitive enough for rocking out on your tablet without damaging it'.
2. The tablet paintbrush
Or if you like to get creative in a different way, turn your tablet into a tool even Picasso would have loved with the iPad paintbrush. It 'uses patent-pending synthetic hairs infused with conductive properties, designed with the same taper, flexibility, and strength as traditional bristles, resulting in the same feel and authentic strokes'.
3. Tablet wall mount
Perfect for when you need your hands free; if you're cooking and following a recipe or watching a movie, for example, the Koala tablet and iPad wall mount allows you to mount your device safely and damage-free to the wall.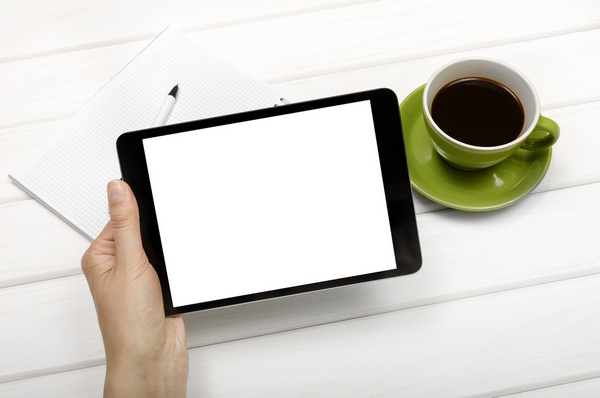 4. Zooka Bluetooth speaker bar
The Zooka Bluetooth speaker bar enables you to 'wirelessly pump out your best-loved music, games, and movies', from its built-in kickstand which raises your device to the perfect viewing angle. It's made from silicone which means it's really tough and hardwearing, too.
5. Rhino shield
Speaking of hardwearing, the Rhino shield is a high impact-resistant screen protector which is perfect for those who tend to be a little clumsy and want to ensure maximum protection of their favourite gadget. It's simple to apply and leaves no sticky residue and no air bubbles, and is also scratch resistant and has an anti-fingerprint smudge layer.
6. HoverBar
HoverBar 3 is a flexible arm that attaches to any ledge in your office, kitchen, bedroom or anywhere you use your iPad, allowing you to enjoy your iPad hands-free. HoverBar 3 securely clips to any edge (up to 1 inch thick) and includes 3 iPad Fit Clips to hold iPad (2nd-4th generations), iPad Air, iPad mini, and iPad mini.
7. Protective cover with portable keyboard
This Logitech 920-005905 case for iPad Air doubles as a dual-view stand, allowing an upright angle that exposes the Bluetooth keyboard and enables comfortable typing and a flat-laying option that makes it easy to view media or browse the Web, which is perfect if you don't like the idea of using a touch screen for some things.