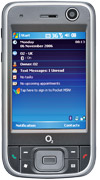 The January end debut of O2 XDA Zinc is now unlikely as the possible release date has been pushed back to March.
This new device is touted to have the goodness of 3G connectivity for high speed internet and video calling. It will have a full QWERTY keyboard supported by 2.8-inch touchscreen LCD. The internal memory has been plugged at 64MB with microSD card slot for expansion with 128MB worth of flash based ROM.
Apart from 3G connectivity this will also have Bluetooth2.0 with Wi-Fi 802.11b/g. it weighs around 5.82 lbs and is just 2.3-centimeters thick.
There is till now no word on pricing but this march release can have a negative impact on the sales as it is likely to put of many potential buyers until and unless they are hard core O2 fans.
Via: Reghardware