AT&T has been dishing out 4G cell phones for quite some time now, with the LG Nitro HD being the latest addition on 28th November. Another one launched by AT&T in the mid November was the Samsung Galaxy S II Skyrocket. Both the phones are the best 4G phones offered by AT&T at the same price and similar features which involves them into a really tough fight. For the commoner, it is quite a task to choose between the two. Let us take a detailed look at the major parameters of these phones and compare them.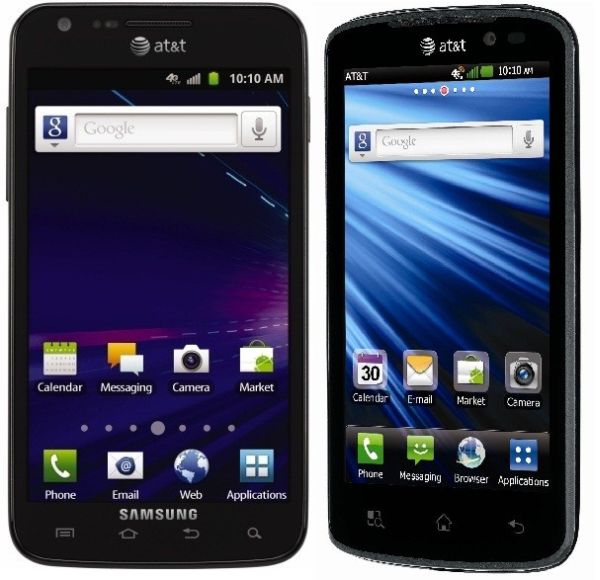 Challenge
Since they come with the same price tag, it is a real challenge to compare them. In addition to that, both run on similar Android OS Gingerbread versions and have similar dual core processor with same speed. The Samsung Galaxy S II Skyrocket evenly matches and sometimes betters the Nitro HD in some aspect, but has a slight disadvantage on the context of resolution and pixel density. But due to this, the Skyrocket has a better battery life. The Nitro has an internal 4GB storage that is expandable up to 32GB, whereas the Skyrocket comes with an internal storage of 16GB expandable up to 32GB.
1. Display
Both have a capacitive touch screen. The Skyrocket boasts a display of 4.5 inch Super AMOLED, plus that gives a resolution of 800×480 pixels with approximately 207 ppi pixel density. Whereas, the Nitro HD has a 4.5 inch True HD AH IPS (Advanced High Performance In Plane Switching) with 1280 x 720 pixels resolution at about 326 ppi pixel density. The LG Nitro has greater pixel density and sharper text clarity than the Skyrocket.
Winner: The LG Nitro HD wins, thanks to its exceptionally high resolution IPS display.
2. Size
The Skyrocket comes in 5.15 x 2.75 x 0.37 inches dimension (129.8 x 68.8 x 9.49 mm) and its weight is 4.66 ounces (130 g) while the dimension of the Nitro HD is 5.27 x 2.67 x 0.41 inches (133.9 x 67.8 x 10.4 mm) and weighs 4.5 ounces (127 g).
Winner: It's a tie. Both have almost same dimensions and weight.
3. Processor
Both the phones feature a 1.5Ghz dual core processor with 1GB RAM. The Nitro HD is driven by a Qualcomm APQ8060 processor and the Skyrocket features a Scorpion processor, Adreno 220 GPU, Qualcomm APQ8060 Snapdragon chipset.
Both handle gaming and 1080p video extremely well and feel fast. But, while navigating the device, the Samsung Galaxy S II Skyrocket seems a bit faster and fares better in standardized tests. Pushing a lot more pixels around takes a toll on the Nitro's real world and synthetic performance.
Winner: Samsung Galaxy S II Skyrocket
4. Camera
Both the phones sport 8 megapixel main cameras at the back (with LED flash) with 1080p HD video capture. Good quality photos and videos can be taken from both the phones. But, in case of the front facing camera (for video calling), the Skyrocket has a 2 megapixel camera while the Nitro HD has a 1 megapixel one. The Skyrocket scores more due to the better very low light shots and focus ability as well as for its faster shutter.
Winner: Tough one, almost a tie; but the Samsung Galaxy S II Skyrocket just about manages to win.
5. Operating system
Both phones run on the Android 2.3 Gingerbread operating system with the Nitro running on Android 2.3.5 and the Skyrocket on Android 2.3.6, with both promised to Android 4.0 Ice Cream Sandwich to be launched in 2012. Out of the two, Samsung has just a little better reputation for bringing out new updates. The Skyrocket also has a better community developer support.
Winner: The Samsung Galaxy S II Skyrocket is the winner thanks to a better upgrade track record, hackability through community mods and ROMs.
6. Battery
The Nitro HD has a standard Li ion 1830 mAh battery. Only 3 hours of talk time has been claimed by LG and AT&T for the Nitro HD. On the other hand, the Skyrocket has a standard Li ion 1850 mAh battery which gives up to 7 hours of talk time and up to 256 hours of standby time. It has the Super AMOLED Plus display which is very power frugal and the Samsung Galaxy S II beats the LG Nitro HD. The Samsung Skyrocket lasts throughout the day, every day.
Winner: Samsung Galaxy S II Skyrocket
7. Verdict
Both the LG Nitro HD and the Samsung Galaxy S II Skyrocket have their own strengths and weaknesses. If you are not that much into technical details, the differences will not be evident to you. If you desire a high resolution and high pixel density, you should go for the LG Nitro. However, the Samsung Skyrocket has a much better battery life and high speed network connectivity with AT&T's 700MHz LTE waves. Hence, if you desire a handset which allows you to surf using the super fast connections along with a great battery, you should choose the Samsung Galaxy S II Skyrocket.