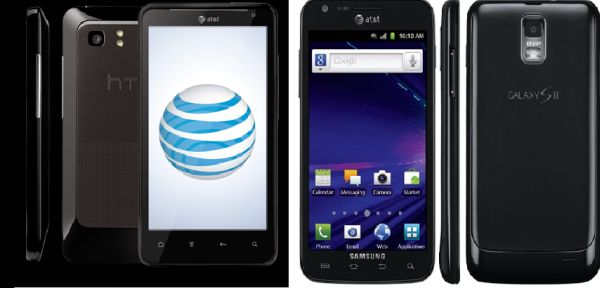 The challenge
AT&T has unveiled two exciting 4.5-inch Android smartphones for the fall 2011. The devices are from leading Android phone manufacturers Samsung and HTC and they are respectively called Samsung Galaxy S II Skyrocket and HTC Vivid. Skyrocket is a high-end smartphone with better processing, Super AMOLED display and chic body design. HTC Vivid, on the other hand, is a moderate phone with a price of just $199. We compare the two AT&T phones here to help you get rid of the confusion from choosing between the devices. A detailed comparison is made below, which will bring to you key features and specialties of the smartphones.
Comparison Attributes
Operating System
Both HTC Vivid and Galaxy S II Skyrocket play on Android 2.3.5 Gingerbread. Possibly, the phones will be getting updated to Android 4.0 Ice Cream Sandwich at a later date. Ice Sandwich is the most recent version of Android, which Google floated up last month on Samsung Galaxy Nexus.
Winner: No winner.
Processor
The HTC phone mounts a 1.2 GHz dual-core processor. On the other hand, Skyrocket, a member of Samsung's famous Galaxy S II series, has an advanced 1.5 GHz Exynos SoC dual-core processor. Even AT&T's Galaxy S II has a 1.2 GHz dual core processor.
Winner: Samsung Galaxy S II Skyrocket.
Memory
Vivid is up with an internal memory of 16GB. The phone also sports a microSD slot that you can use to expand memory up to 32GB. Skyrocket is also with the same specs. The Samsung Galaxy S II phone features a 16GB internal storage and up to 32GB expandable microSD slot.
Winner: No winner.
Display
As mentioned above, both Vivid and Skyrocket highlight 4.5-inch displays. The former one has an S-LCD capacitive touchscreen with 256K colors, while the latter rocks a Super AMOLED Plus capacitive touchscreen with 16M colors.
Winner: Samsung Galaxy S II Skyrocket
Camera
The HTC and Samsung phones have identical features in camera specs also. The phones are with exactly the same 8-megapixel camera sensors and features like autofocus, dual-LED flash, face detection and geo-tagging. The cameras are capable to capture video at 1080p at 30fps. Meanwhile, Vivid has a 1.3-megapixel camera and Skyrocket sports a 2-megapixerl camera in the front for video calls.
Winner: Samsung Galaxy S II Skyrocket
Price
There is a huge change in the price tags of the HTC and Samsung phones. When AT&T sells HTC Vivid for $199.99 with two year contract, the carrier has priced Skyrocket at $249.99 with the same contract period. It means the phones are meant for two classes of customers.
Winner: HTC Vivid (if you consider only low price)
Winner
Samsung Galaxy S II Skyrocket is the ultimate winner of the comparison. In many aspects, the phones have equal features. However, Skyrocket is a more powerful and gorgeous Android smartphone. It has a 1.5GHz processor, better display, enhanced memory and good front facing camera over its HTC rival.
The verdict
The 2011 fall is ready for an intense battle between companies in the smartphone industry. We have lots of hot products from almost all leading companies including Samsung and HTC for the fall. However, it happens very rarely that a carrier sports phones of almost matching specs from two rivaling companies. HTC Vivid may be a moderate smartphone with a low price and less powerful processor. However, in all other aspects, the HTC phone remains competitive to its Samsung rival. When it comes display, rear-camera, software and memory, Vivid has the same features of Skyrocket.
However, they are two different phones, indeed. Skyrocket is Samsung's second Galaxy S II phone on AT&T. The company also has Galaxy S II on the carrier. The new Samsung phone is actually meant to take on fresh competitors like HTC Vivid and iPhone 4S on the carrier. A large display and a 1.5GHz processor are the landmark features of the phone. Of course, notwithstanding the big price (in comparison to Vivid), Skyrocket will be winning in a fray on the carrier.