The Challenge
Two new smart phones that pack quite a punch are out in the market recently. The LG Nitro HD and the HTC Rezound are two phones which are powerhouses in themselves. Both are new in the market and have great potential, thus making it difficult to decide which a better buy among the two is. So here is a step by step comparison to figure out which one is better and why!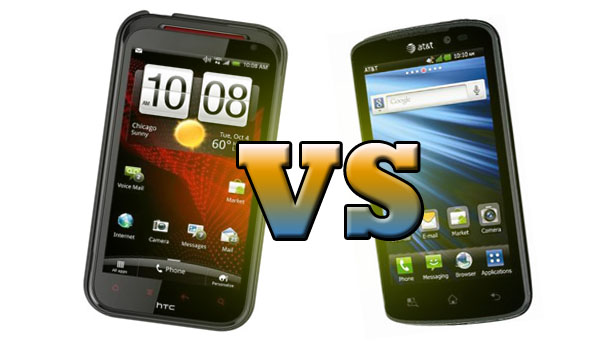 LG Nitro HD
The LG Nitro HD is an Android 2.3.5 Gingerbread mobile with 4.5 inch screen and a 1280×720 AH IPS display. It also has a dual core 1.5GHz Qualcomm APQ8o6o processor, and an 8 megapixel rear camera along with a 1.5 mega pixel front facing click. The Nitro HD also includes an LED flash as well and has a marveling 1080p HD video recording. It even has around 6 modes of capturing your favorite moments.
If you become sick of the various applications and widgets, uninstalling them is damn easy in this phone. The phone also comes with a 4GB internal storage and a 16GB microSD card. It has the GPS with the A-GPS connectivity, accelerometer, gyroscope, proximity sensor, a3.5mm audio jack, document editor and a stereo Bluetooth v3.0.
Honestly, it is not a great design on the down side. It does have a plastic cover on the back side with diagonal grooves that make it lighter and easier to hold but the model design might be a disappointment. The battery life, at 7 hours, can best be termed modest.
HTC Rezound
The HTC Rezound is the first mobile with a HD display in the USA. Pretty bulky, the Rezound is about 14mm thick which certainly makes it one of the thickest smart phones.
Rezound comes up with the android 2.3.4 but can be upgraded to the latest Ice Cream Sandwich, according to HTC. Rezound also has a massive battery backup because of its 1.5GHz dual-core Qualcomm MSM866o CPU. It has a cool 1 GB of RAM and is also geared up with an 8 mega pixel camera in the rear and a 2 mega pixel camera on the frontier. The market package is supposedly with the microSD card of 16GB memory. 1o8o video capture and an integrated beats audio are accompanying the varied features of the mobile.
The thickness is not much to worry about. The weight is concentrated to the center which makes it comfortable for the user to hold it in the hand. It is a blend of amazing pixel density and a HD display with a fully shiny screen makes it worth when looked at it. When the text is enlarged, you certainly find it hard to spot a jagged set of characters making its clarity top the class.
The wrap up certainly is says that it is one of the best phones one can own. Leaving behind the one single aspect regarding the bulkiness of the phone, all the other features favor the odds of purchasing this handset.
Comparison attribute
Let's see which of the two smart phones is worth giving a shot. HTC Rezound is a typical CDMA set while Nitro includes GSM as well as HSDPA. Rezound is pretty bulkier than Nitro weighing approximately 50gms extra. This might be quite a determining factor influencing people to go for Nitro considering it to be light weighted and easy to handle. But consider the other aspects as well.
The internal memory allocated for Nitro is 4GB while that of the Rezound comes up to 16GB. Nevertheless, there does not seem to be a huge difference between the microSD cards.
When looked at the camera, you would not find much of a difference between the both. HTC offers dual flash which is not the same with this competing LG model. Also, the frontier lens is made to the specification of 2 mega pixel in the Rezound gadget while it is only 1.2 for Nitro.
Winner
All of this finally gets down to your desirability and your need. If you're a music enthusiast who would love to have a tailor made gadget, and are not worried about the money that is asked for the present features and you go by the ads, then HTC Rezound is perfect for you. Nitro is for also those out there seeking for a nominal battery life and a variety of features. A lovely light weighted mobile very comfortable to hold and use. Both are best at their end, it is for you to decide what's made for you.