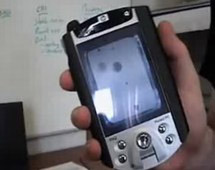 It can get little irritating when after an important meeting you have to click various different icons to check if you have got any messages or missed calls or how full is your mobile's battery left. How I wish that there was a simpler way of doing all this. Shoogle's new technology will make that hell lot easier and soon this all info will be a 'shake' away!
Shoogle has developed a feedback technology that will allow user to check messages, missed calls and remaining battery life by just shaking the mobile phone. They are going to do this by using accelerometers, vibrators and internal speakers.

This is still in testing phase and a video of the test conducted is available here. It shows that when user shakes mobile then it makes sound to tell the user if there are any new messages or not. If there are new messages then balls appear on screen and sound of balls is heard, number of balls will determine the number of messages. Similarly, if battery is full it sounds like a jar filled with water or else like a empty one.
Though it will take a while to be able to use this technology as its in the testing phase, it won't stop me from saying that it can be next best feature you want on your mobile phone.