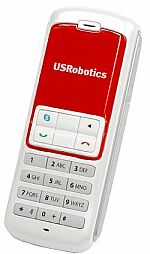 Do you want to talk free on phone? I am sure that the answer will be 'Yes'. More and more phones are popping in with the Skype functionality these days. Now, USRobotics has rolled out two new candybar styles phones, USR9602 and the USR9601A that support the Skype services.
Both the USRobotics USB Internet Mini phones allow the users to talk free anywhere. The voice quality is perfect, thanks to the integrated HiFi Voice technology. Its integrated echo cancellation and noise reduction technology enables smooth conversations.
Compatible with USB 1.1 and USB 2.0 port, the USB mini internet phone has a full support for Windows 2000 and XP operating systems.
Via: textually