BlackBerry Peer is a great multi-function communication device from Research In Motion (RIM) for children. Industrial designer Felix Lorsignol has realized this wonderful product. Peer actually falls under a new category of travel accessories that RIM wants to explore with many products. Lorsignol was hired by RIM to develop a high-end travel accessory for parents to stay connected with their children in a trip. Parents can use the cute device to communicate with their kids in a congested area or in case of any emergency.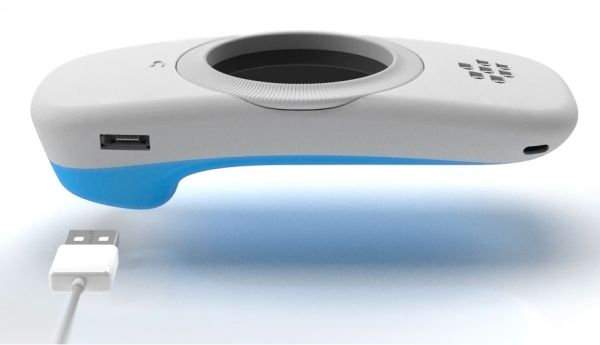 At the same time, for children BlackBerry Peer is a small digital camera that can take images and videos. The device is also up with the apps that will help children modify their snaps and to share with friends. Peer is so small that children can carry it effortlessly. The security part is certainly the biggest advantage of the device. Parents can remain attached with their children even if they are anywhere far-away from the eyes of parents.
According to its designer, he was required by RIM to develop a small device to include in its new travel accessories. Before entering to the development procedure, Lorsignol profoundly went through the dynamics of family traveling with children. He well recognized that a device that can ensure security of children has better scope in market. It is how BlackBerry Peer was realized. 'Peer' in the device's name itself lights into the very purpose of the device.
Along with the security factor, Peer was designed with social media and camera capabilities also. Thanks to BlackBerry's social platform, children can use the device to share images captured. Indeed, RIM's aim is to expand BlackBerry experience from business. RIM will soon bring Peer into stores in various colors that will magnetize children.
After developing the prototype models, its designer collected suggestions from both adults and children. The final form was developed based on these suggestions. "I had the opportunity to use RIM's stereolithography machine to build a high-quality physical model for the final deliverable," says Lorsignol.
BlackBerry Peer will certainly help parents, teachers and others to control children and students. While going out for an excursion, the device could be used to avoid segregation of kids. Guardians can communicate with the students and gather them up to a place via messages through Peer. This way things will become simple for parents or teachers to control their kids, who may run away to various corners in a park or a shopping mall.
BlackBerry Peer has a small rounded display in the middle part. A camera, long lasting battery, speaker, mic and other components appear on the cute and small gadgets. Peer looks like the handle of a land phone and comes in various and attractive colors.
Via: Coroflot