BlackBerry Curve 9220 is one of the affordable handsets by RIM. This phone is shipped with the latest Blackberry 7.1 OS. This new OS is faster, smoother and most important of all, more secure. The backlit QWERTY pad is evenly spaced and is easy to use. It has a 2.44-inch TFT LCD screen which supports a resolution of 320 x 240 pixels. On the back panel there is a 2 megapixel camera with 5X digital zoom. You can also record videos but the camera lacks auto focus.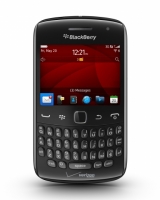 Performance
Blackberry now proclaims a better battery backup with a talk time of 7 hours, music playback of 28 hours and a standby of 432 hours. The build quality of the phone is amazing. Construction is another plus point for Curve 9220, apart from the 7.1 OS. The music player plays most of the popular audio formats including MP3, eAAC+, WAV and FLAC. The call quality is very good and calls were crystal clear, even in noisy ambience. Reception on the phone is also top notch.
Features
This phone features the latest Blackberry OS 7.1 which enhances the Blackberry experience altogether. It has 2.44 inch LCD screen which delivers crisp picture quality despite being able to deliver 320 x 240 resolutions. It also has a 2 megapixel camera with 5x digital zoom and video recording. This phone comes with 512 MB of internal RAM for smooth processing. The QWERTY pad has been introduced with some minor changes and is very easy to use. This phone surprisingly has an FM radio, a feature which is absent in all other Blackberry devices. It comes with Wi-Fi connectivity but lacks 3G, which is a major turnoff. The memory can be expanded up to 32 MB via microSD expansion slot. It also has an accelerometer and a digital compass. It also has a dedicated Blackberry Messenger Key.
Design
The casing is made out of high quality plastic which has rubber lining on edges. The backlit QWERTY keyboard is easy to use even in the dark. The navigation is made easy with the help of Optical Trackpad. It also has a 3.5 mm audio jack which lets you use your favorite pair of headphones for music. The camera is quick and would let you capture those precious moments. It also has accelerometer which lets you use auto rotate feature.
Bottomline
So all round it is a good device. It has most of the blackberry features and has an outstanding construction. The rubber lining forms a good grip on your hands while you use it. So all round, it is a good, entry level Blackberry phone. But we can't really avoid absence of 3G in this phone. A lot of Android Phones offer 3G at the same price, some even lower. This phone has an FM radio which seems to be a feature for Indian users. We think FM radio feature is really not needed for business users.