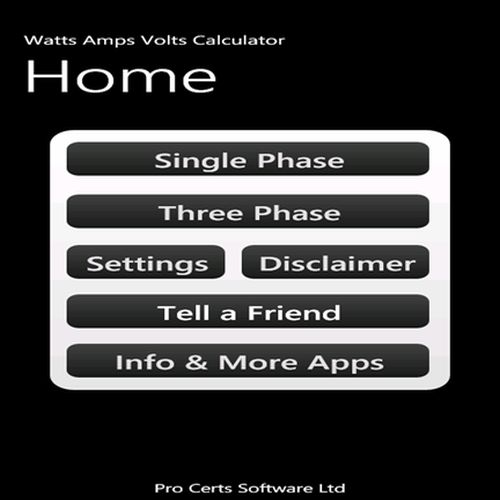 Whether you have been bitten by a 'green' bug for being stinging and bitter on energy consumption or petered out of heavy electrical costs, going light on your surroundings is always a wise decision. Though simply switching off the lights or turning off an equipment help the purpose too, but relying on energy saving mobile apps could serve your objective even better. For the given fact, mobile applications not only educate consumers about energy usage, but also endow them with a sense of environmental responsibility. And, trimmed down costs is another perk that you could latch onto.
Listed below are such amazing Windows Phone Apps that jump into your goal. Take a look over what really made us pick the listed ones as the 7 best options to bet the bottom dollar on.
Watts Amps Volts Calculator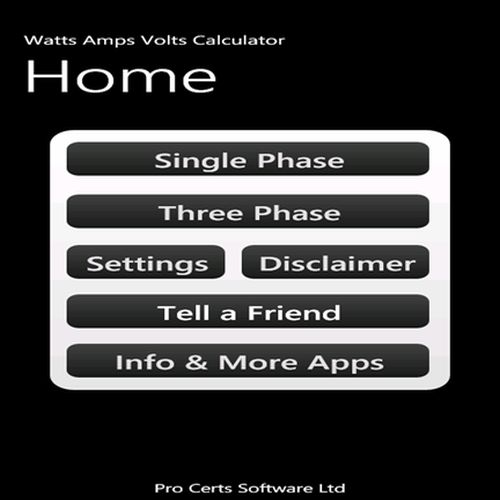 Based on ohms law formula, Watts Amps Volts Calculator can be considered as an amazing mobile tool to discover more about how much electricity you are allowing to be gobbled down. The app allows you to comfortably convert the watts into amps and thus choose the right fuse protection. In fact, you can even get information on the voltage usage and power factor value.
kVA Calculator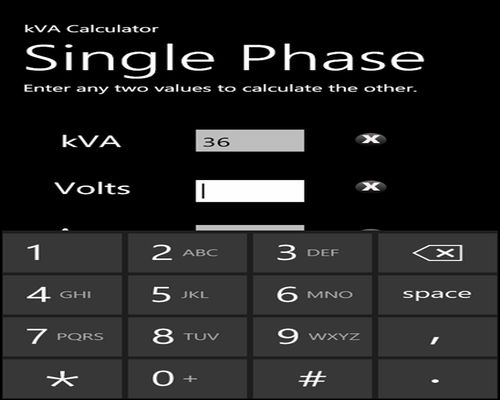 Integrated with save default volts and power factor values, kVA Calculator literally helps users consume little energy and maintain their environmental sustainability (though, minimized cost is a perk too). The energy saver lets you easily convert to or from KW, kVA or Power Factor – and, convert to or from Amps, Volts or kVA.
Max Zs Values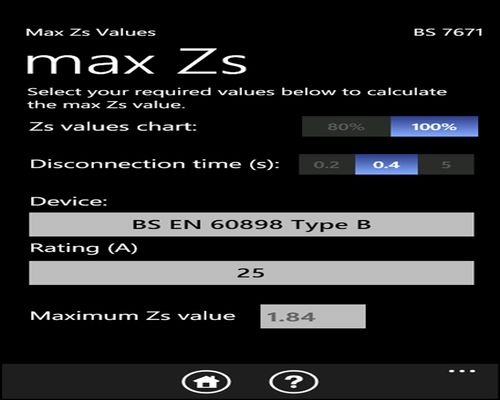 If you ever felt a dearth of calculating earth loop impedance values, then Max Zs Values will just serve the purpose with unprecedented precision. Featuring a clean layout, the Windows Phone app comes equipped with several interesting functions. However, in a nutshell, you can easily choose from 100 percent or 80 percent values and disconnection times that range from 0.2 second to 5 seconds.
Gen Set Calculator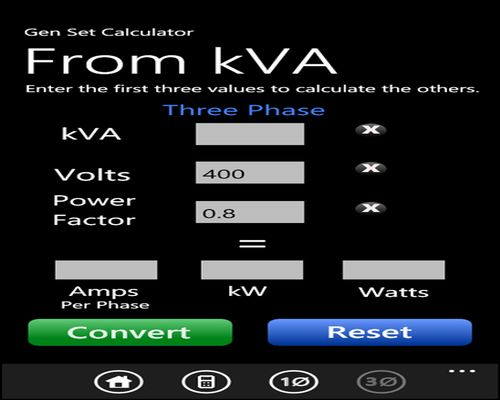 Next great energy conservation app for your Windows Phone is Gen Set Calculator. Embedded with load calculator and overload checker, the software can indeed enable you to save up to 20 loads or appliances and their watts. There's a detailed Info Page which aims at making things simpler for you.
Watts 2 Amps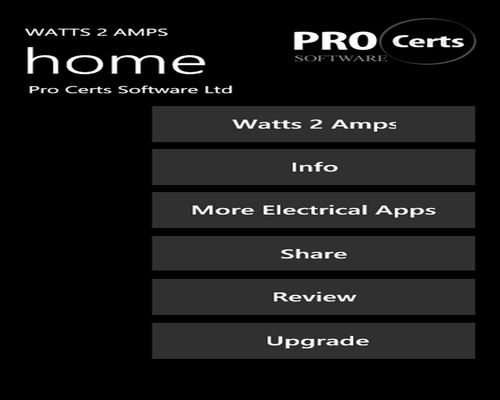 You may also bank on Watts 2 Amps app that lets users convert Watts into Amps effortlessly at the click of a button. Designed aesthetically, the rich-looking app also displays Amps and Volts values.
Electrical Calc's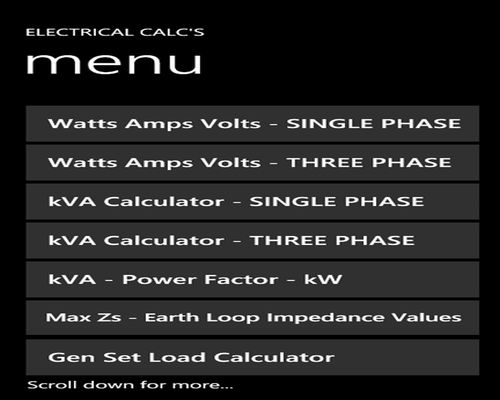 Ideal for users who want to significantly trim down on their energy consumption, Electrical Calc's is another great Windows Phone app. The tool simply allows you to monitor accurate power consumption and to check electrical references out in the field, design office or in the workshops.
All Charts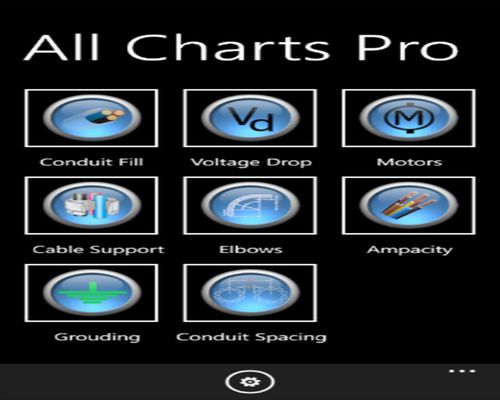 Last but definitely not the least, All Charts Pro emerges as a complete, reliable power system design. Apart from its embedded ability to let users capture screenshots for sharing, the app revamps the experience even further through voltage drop, wire ampacitites, motors, conduit fill, elbow dimensions, and conduct spacing with knockout diameters.