Technology use in parenting is a much-debated topic. Discussions regarding the proper age to permit "screen time," how much to allow, and what devices to use are ongoing everywhere from doctors' offices to social media. Yes, there are downsides to technology use, but there are also fantastic apps available on some of the best smartphones on the market for moms, like iPhones, as well as tablets such as the iPad, to help children tap into their creative selves.
Lazoo Art Box – $1.99 (iPhone/iPad)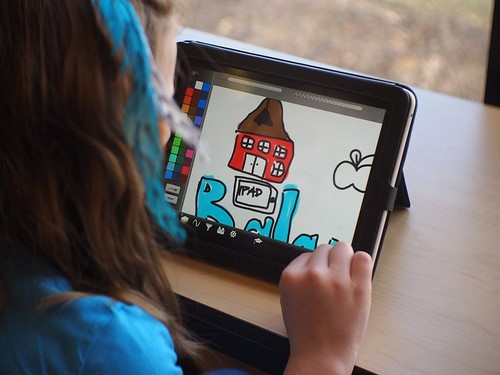 Image via Flickr by flickingerbrad
This is a simple app for preschool-aged children that allows them to create their own designs and bring them to life in animation. The app has multiple modes including filling in scenes with scribbles, coloring in drawings, drawing on a blank screen, and drawing on top of photos. With every mode, the child can push a play button and the drawings he or she has created dance across the screen or animate appropriately according to the context of the scene. Some of the best smartphones for moms and kids have large HD displays that will feature your kids' drawings in vivid detail and vibrant colors. High-end smartphones are now more affordable than ever before, making for a cost-effective yet fun way for kids to express their creativity.
Bug Art – $1.99 (iPhone/iPad)
This app holds much of the same concept as the Lazoo Art Box, allowing preschool-aged children to color in bugs and then see them come to life on a screen. The bugs are created in paint mode and then dropped into a scene with music for the bugs to dance, walk around, and interact with one another. Children see their own creations brought to life, building their confidence in their own artwork.
Kids Music Factory – Free or $2.99 (iPhone/iPad)
Geared toward grade school students, this app allows kids to produce their own music. Scales are provided with multiple instruments—piano, horn, xylophone—as well as unique sounds such as dogs barking, cats meowing, and helicopters flying. Users place notes along the scale, stack them, and use a variety of instruments to compose music. Unique songs can be put together, recorded, and stored, encouraging music creation. This app has the potential to segue a child into playing an actual musical instrument, which can provide academic benefits and boost self-esteem.
Perfect Piano – Free or $2.99 (iPhone/iPad)
"Perfect Piano" allows a child free play as well as a guided mode that teaches songs such as "We Wish You a Merry Christmas" and "Canon in D" in different stages of difficulty. While this app is offered for both iPhone and iPad, if the goal is getting a child into the habit of practicing, the iPad is probably the better choice since the hands can be laid out across the screen the same way one can do with a piano.
This app offers a first step for parents on the fence in regards to signing their child up for piano lessons. One of the biggest struggles parents have in terms of their kids playing the piano is practice time and making it fun. The challenge mode of this app encourages the child to play until achieving a musical goal, which is a method that promotes healthy practice time when students are learning to play the actual instrument.
Foldify – $3.99 (iPad)
For kids ages 9–11, "Foldify" allows children to create 3D artwork on an iPad, print the creation directly from the app, then build it. Kids can "build their own zoo" by selecting a particular animal within the app and then using the tools to add color and features before printing the piece. Not only does this app introduce arts and crafts, but it adds a bit of engineering into the mix as well.
Kids Crafts – Free (iPhone/iPad)
Another approach is using Kids Crafts to transition in-app ideas to execution of those ideas completely offline. The app stores a wide variety of arts and crafts projects labeled by age, category (e.g. gifts, seasonal), and time commitment. A comprehensive list of materials needed is included with each project as well as a link to buy.
Phones and tablets shouldn't be the primary way children are delving into their creative selves, but technology does offer a conduit into that world. Whether it's creating music or coloring, these apps complement kids getting down and dirty in arts and crafts.
Article Submitted By Community Writer