After catching a lot of glimpses with their award winning Smart Office Phone during this year's CES, Invoxia has now settled upon something equally intriguing for music aficionados. Well, the company recently graced the Mobile World Congress 2012 with the unleashing of their brand new AudiOffice Speaker Dock for iDevices. Designed aesthetically, the ultra business dock for music and voice stands distinguished for its unique combination of sleek looks and great performance.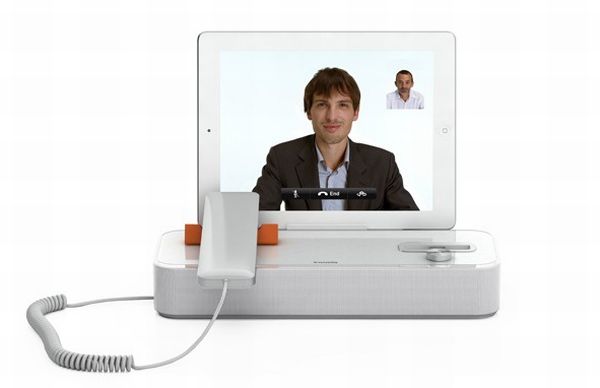 Made to snooze out in a comfortable, compact chassis, the new AudiOffice has been drawn to perfectly showcase its distinct acoustic qualities. The neat looking device employs stainless steel grip for its solid construction that gets topped by a PMMA slab for powerful and balanced sound. So be it listening to euphonious tunes with unparalleled clarity or experiencing the ultimate office sound system for entertainment, AudiOffice enables almost everything.
Touted to be a perfect dock for iPhone and iPad users' conversations, the peripheral can be conveniently used to call through the mobile line using the speakerphone. Integrated with a unique sound quality, the device also allows users to benefit from their VoIP apps such as Viber, Skype, Bria and others at the same time. There's a Slave USB port as well that lets music admirers listen to their favorite tunes or conversations that are running on their computer.
Aimed to put forth an entirely new dimension to users' video calls, the slim speaker dock comes equipped with an innovative signal processing technology. By taking advantage of which, AudiOffice manages to seamlessly render unprecedented music quality and astounding sound performance. What's more, the solution has four broadband speakers that are distributed neatly across the front corners to bury the user in the sound.
Besides ensuring enveloping qualities and noteworthy intensity, the dock also features two vents towards the front for enhancing the basses and overall sound quality. The stated technique, however, differs from other standard closed box loudspeakers for boosting the efficiency at low frequencies. At the same time, the integrated support for its 3.5mm jack, Bluetooth connection and USB slots augment the usability factor. With this one around, Apple users and other users can now easily connect their devices to the system for reaping the diverse benefits.
The latest addition from Invoxia furthermore catches attention for embedding Background Noise Cancellation Technology and In Vivo Acoustic Technology for an uninterrupted listening experience. Dedicated to smart telephony applications, AudiOffice indeed revamps the journey through a host of amazing features and the ability to create a unique sensation. Not to slip by, users will also be enabled to take advantage of the integrated two digital microphones that are positioned in the center front for their interlocutors.
The new Invoxia AudiOffice features compatibility with the iPod touch third and fourth generation, iPad and iPad 2, and iPhone 3GS and 4. Priced at $300, the speaker dock can now be purchased from the company's official website.
Via: Engadget