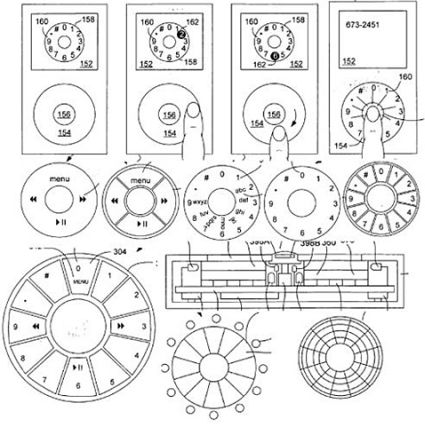 So what is it? Six days, a week at the most since iPhone launched. Already people (read morons) are complaining that the device is a bit too complicated for their liking. Frankly speaking, Apple, too, is not yet satisfied with its wonder-gadget iPhone. But while all the others out there are busy listing the flaws of iPhone or smashing 'em up to see what is inside, Apple is already moving on. It has filed a patent application for a device that resembles a simplified iPhone. (Anyone thinking iPod nano?)
The patent filed depicts a rotary-styled keypad that displays graphical elements to indicate input areas of the touchpad, and displays those symbols in a circular arrangement. The only inferences one can draw from these blueprints is one, Apple is already seeking to improve upon the device and two, it is not yet willing to drop on the idea of a click wheel in a phone.
However, this new phone will not encompass all those goodies as its predecessors but it will surely aim to target those consumers who seek to enjoy iPhone, sans all the complexities and of course, the high price involved.
Via: Lifeparticles