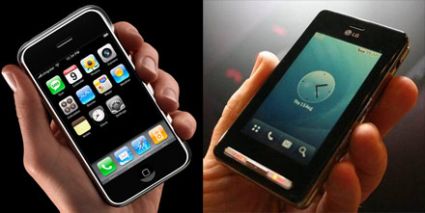 Ever since LG's KE850 photos hit the web there were rumors that this might be Apple iPhone working model and it turns out well and truly to be one.

Similarities:
– Both are touchscreen phones with large displays
– Both are yet to be launched but will be across the Atlantic Prada phone will see light of day in March or April in Europe and iPhone in June
– Both will be able to handle media well on large displays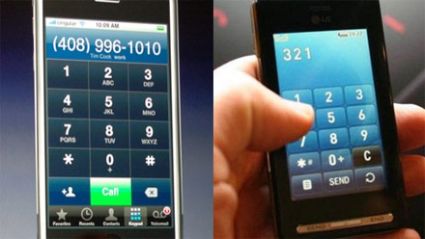 Dissimilarities:
o iPhone's 4GB and 8GB memory are quiet large compared to rumored minimal memory of KE850 we also do not know whether it will have expandable memory option.
o iPhone display resolution is 480 x 320 while that of KE850 is meager 240 x 400.
o We know Apple's phone will have all the qualities inherent in iPod not much is known about KE850 but guys it can't be better than iTunes.
o KE850 when you see the photos looks to have office support which is missing in iPhone
Apple's phone supports Google Maps, Mail, Safari, Google search, Yahoo! Search now will KE850 will also have similar support is not known.
I concede the info on LG model is very scanty but from whatever reported on web we can easily come to conclusion that iPhone is much better. Now ball is in LG's court and they have time to go back to drawing boards again as there phone is yet to be launched.
Via: Engadgetmobile