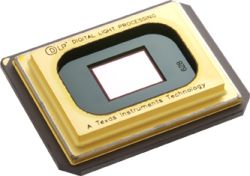 With Texas Instruments (TI) DLP and OMAP technology the users of cellphone can now capture high quality images and videos in their devices. This captured content then can easily be shared between friends and peers.
The 0.55 DLP chip weighing 1 pound by TI not only makes this projector easy to carry but the sharing support to DLP displays also makes the content sharing and viewing easy.
The TI's projector uses low -power and high processing abilities to give users a high quality experience.
TI is not the first but there are many companies who are making these types of micro projectors.
Via: Slashphone