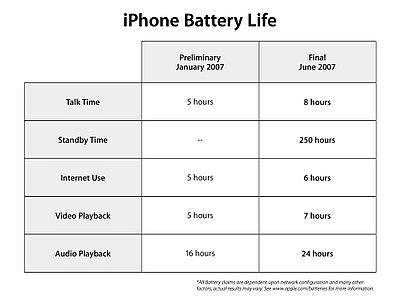 When Apple announced the iPhone back in January, one of the major concerns about the phone was its five hours of battery life. But now, Apple has addressed the issue and has announced that it has upgraded iPhone's battery life. iPhone will now rock up to 8 hours of talk time, 6 hours of Internet use, 7 hours of video playback or 24 hours of audio playback. Moreover, the iPhone will boast up to 250 hours more than 10 days of standby time. Steve Jobs, Apple's CEO cited:
With 8 hours of talk time, and 24 hours of audio playback, iPhone's battery life is longer than any other 'Smartphone' and even longer than most MP3 players.
This will surely relieve those who are concerned a lot about the battery life. In addition, Apple also upgraded the original plastic surface of the phone, including its 3.5-inch display, to some "optical-quality glass" to improve scratch resistance and clarity. The next thing I wish to see in the iPhone is the 3G inclusion.
Via: Business2