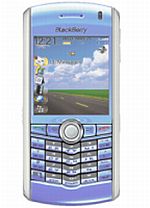 BlackBerry fans had the Pearl and the Curve. Now, BoyGeniusReport is reporting some of the features of the next Pearl. Yes, we are talking about the Blackberry Pearl 2 (codenamed Komet). Leave all the specs aside, the feature that makes the Pearl 2 stand apart from all other phones is its 3.2-megapixel camera with an improved flash and a 6X digital zoom.
Other features include 3.5 mm headset jack, external microSD slot, a new keypad technology, stereo Bluetooth, 64MB of memory, and claimed 4.5 hours of talk time with 15 days of standby.
I am not bothered about all these features but the superior 3.2-megapixel camera only. RIM is being reported to be planning a big marketing initiative to launch the Pearl 2. I am waiting!