Nokia, one of the leading mobile phones manufacturing company, has officially announced the addition of two new multimedia devices to their Nokia Nseries product line. The company confirmed their own availability of the N75 and the N76 today.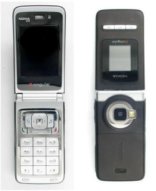 The Nokia N75 and N76 are available for purchase through independent distribution in the United States.
The Nokia N75 have been enjoying good sale in AT&T's lineup for a few weeks now but it's been almost impossible to get one contract-free from the carrier. Nokia's direct sale, therefore, is a welcome news for folks who just want to buy one outright. Simultaneously, the N76 provides tough competition to its counterpart in the looks department, but the consumer should bear one critical fact in mind: US-usable 3G data is positioned underneath the N75's hood.
With a rivetting combination of design and technology, the N76 is the thinnest Nokia Nseries multimedia computer to date (it's width is 0.54 inches).The Nokia N75 is an all in one 3G device intended to improve the multimedia experience with its high speed and enhanced imaging functionality and music capabilities.
"Nokia is thrilled to include the Nokia N76 and the Nokia N75 into the growing line of Nseries multimedia computers which are now available directly to consumers in the United States,"
said Bill Plummer, Vice
President, Sales & Channel Management, Multimedia, Nokia North America.
"By bringing to market multimedia computers that will unlock the door to new
multimedia experiences, Nokia strives to expand the US marketplace."
So, go ahead and pick up the N75 for $429.99 and the N76 for $499.99 starting today from Nokia (including the flagship stores in New York and Chicago) and its distributors.
Image Credit:darlamack.blogs.com
Source: Prnewswire