Imagination has no limit and Dan Hsus' new Acer Android phone concept proves it. The Taiwan designer has proposed a path-breaking phone concept for Acer, which has created some Android handsets like the recent CloudMobile S500. This Android 4.0 Ice Cream Sandwich handset concept is looking awesome with two chins; one in the lower and one in the upper parts. The lower chin is there to show time and date, while the upper chin would show icons and apps.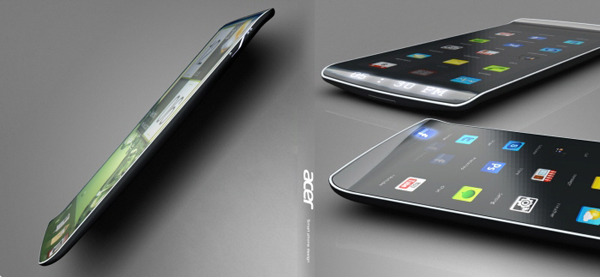 Dan Hsus has shared little info about his incredible product design. The designer has just posted its images on web for the imagination of readers. Indeed, having a glance at its home screen, it looks like that the concept phone runs Android 4.0 Ice Cream Sandwich. It likely sports a 4.3-inch display with 720p resolution and an 8-megapixel rear camera for capturing brilliant images and video clips.
The Acer Android phone concept certainly has a sleek design. Most likely, it will be as thin as 7mm and highly lightweight for enhanced portability. Though thinner, an integrated camera rests at the back with LED flash, indeed. Surely, the concept phone becomes a breathtaking product with its integration of all modern day features.
It seems that Dan Hsus has also designed a 4-inch version of the phone concept with a 5-megapixel rear camera and other advanced features. Images of the concept phones reveal that they come in three colors; white, blue and pink. It is not sure whether Acer will bring these outstanding imaginations to its product line.
Via: ConceptPhones