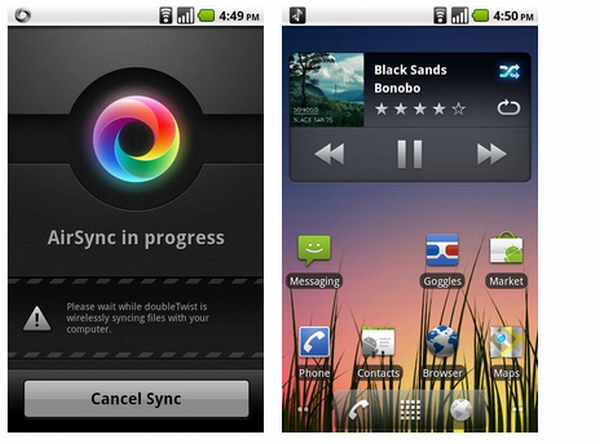 The Android devices are a rage all over and there is practically no stopping to this new technology fever. We all love Android but hate the fact that there's really not a simple, Google-made program that can automatically sync my Music in the same way that iTunes does for iPhone. Get it together, Google. The fact is, however, there are a few ways you can not only sync your music but go one further and do it wirelessly. Here is a list of seven unique ways you can wirelessly sync and stream music to an Android device. Have a look!
iSyncr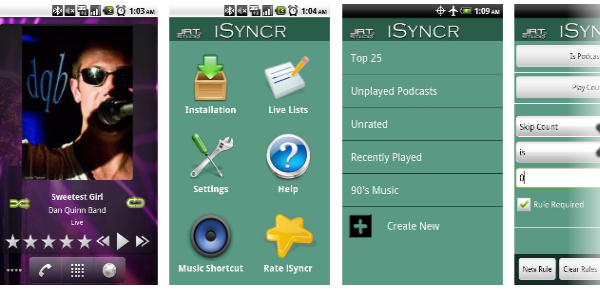 Want to stop carrying both your phone and your iPod? Keep your music fresh with smart playlists? iSyncr enables you to quickly sync your Android device with the music you have in iTunes using a simple to use interface. Just plug your phone into your computer, select the iTunes playlists you want, and start syncing. No need to move your music into new music management software. iSyncr works directly with iTunes so you can sync hassle-free. Sync iTunes playlists, rate music and build playlists directly from your device. Leopard, Snow Leopard, or Lion Required (10.5+) – PC version also available in the Market.
Winamp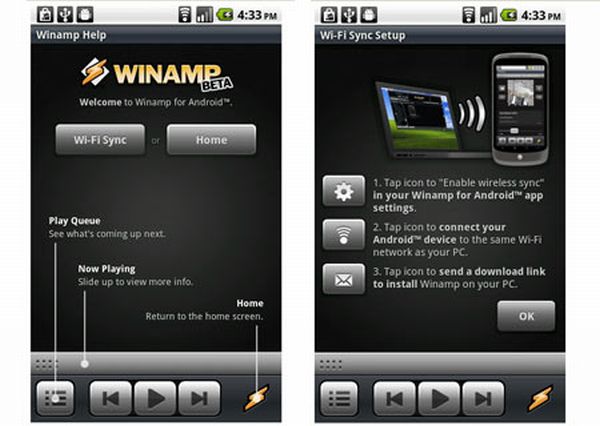 This is the ultimate media player for Android. Play, manage and sync music from your desktop to your Android device. Winamp for Android offers a complete music management solution (2.1 OS and above) featuring wireless desktop sync (Winamp 5.6 required), iTunes library import and access to thousands of internet radio stations with SHOUTcast.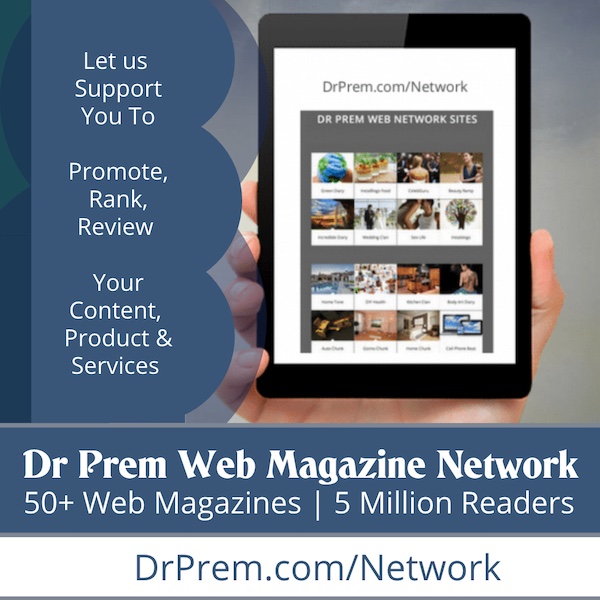 Amazon Cloud Drive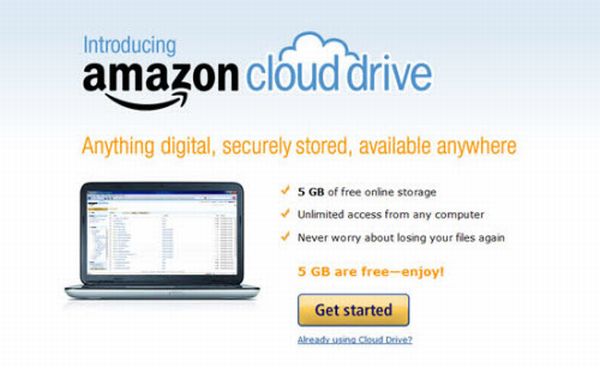 Back in 2006, everyone in the tech media was talking about the Gdrive. This was supposed to be an online storage service from Google, but it never really materialized (except as a Google Docs feature). Meanwhile, Microsoft has offered SkyDrive since 2007, and now Amazon has come out with its own Web storage, Cloud Drive. Mostly intended as an ancillary service to Amazon's new Cloud Player, Cloud Drive gives you 5GB online storage free (compared with Microsoft SkyDrive's 25GB free and Google Doc's 1GB). You can use it purely as an online storage service without having anything to do with the music service. Beyond supporting the player, Cloud Drive offers a simple way to get files stored online, but it lacks a lot of tools you'll find in the comparable Google and Microsoft offerings.
Google Music (Beta)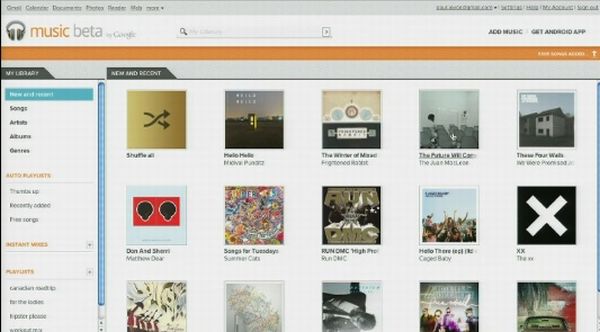 Google Music Beta has been out there for a few months, it's time to focus on how to get people to use it. One key: mobile. While the app still has the Safari chrome around it, it functions smoothly. You can easily play all of your songs, search, shuffle, etc. Swiping left and right takes you between Artists, Albums, Songs, etc. The transitions are very well done. The music even continues to play in the background when you exit Safari. It can be controlled by the iOS music controls.
AirSync by doubleTwist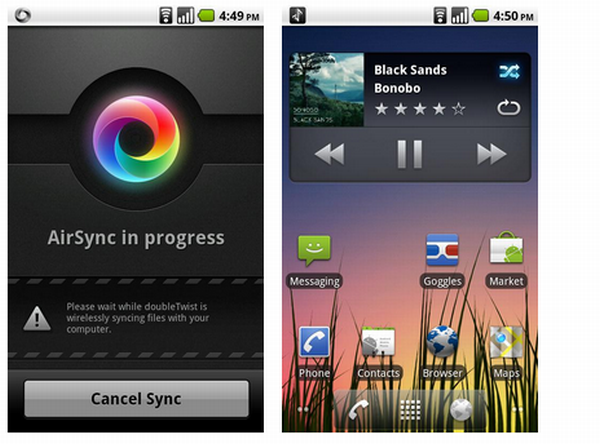 Life Without Wires! Sync your iTunes music and videos over WiFi with AirSync. It is the number one app in Newsweek's Top 10 Android apps for 2011. It is a complete alternative to iTunes for Android and you can use your phone as an iPod using this app! Use in conjunction with the free doubleTwist desktop app to automatically import your iTunes music playlists, iTunes ratings and play counts from your Mac or PC.
Syncables 360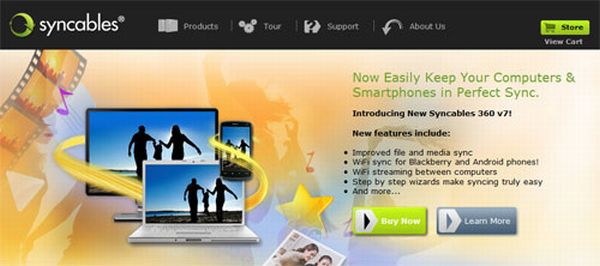 Syncables 360v7 is software to easily keep files, media, email, contacts and bookmarks in perfect sync between computers. With broad compatibility, it syncs with – and even between – Windows, Mac and Linux computers. Plus, it works with your Blackberry or Android smartphones to automatically and wirelessly sync media and contacts with your computers. With Syncables, your computers and smartphones are a fully sync'd, more integrated, more accessible part of your digital lifestyle.
Music WithMe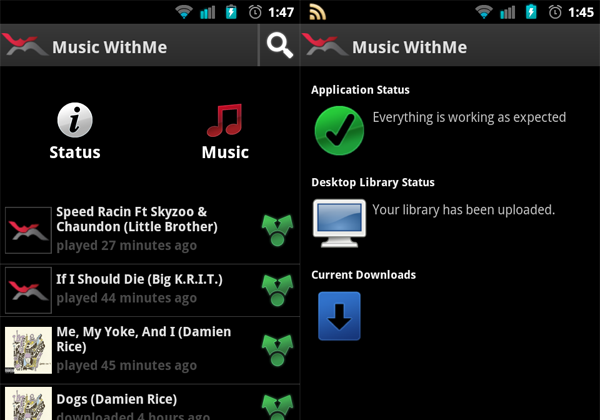 Music WithMe is an Android 2.1 or higher app that can sync music from iTunes to Android phones. Both doubleTwist and WinAmp provide wireless sync, but users must make the switch to those desktop media players in order to take full advantage of that feature. WithMe lets users stay with iTunes and transfer songs based on Artist, Album, or Playlists. The app syncs over Wi-Fi or 3G, so you can grab an album or two even if you're not home.