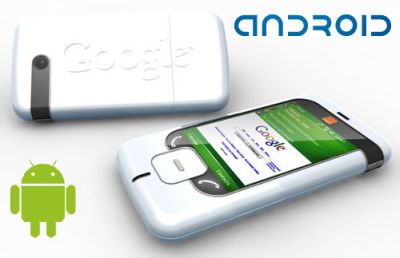 Android phones today are a necessity for anyone who wants to have a smartphone. Smartphones today are seen as something of a societal acceptance. One who wields a smartphone is seen as someone who is technologically current. Google has turned the smartphone world on its head as so many firms are using Google's smartphone OS. And Android is very user friendly too, it gives users a sense of control over the phone. Android has lot of apps which make your life interesting and fun. The current OS for smartphones is Gingerbread (Android 2.3), while for tablets they have Honeycomb 3.2, which is the latest. And Google has announced that they will have a new operating system by November which will be a combination of Honeycomb and Gingerbread, which they are lovingly calling the Ice cream Sandwich. Listed below are seven affordable Android phones.
1. Huawei Ideos
Price: $150 – $200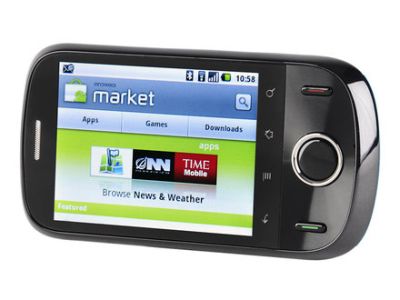 This phone uses a capacitive touchscreen which is very responsive. Huawei has claimed that it has worked with Google in creating this phone. And it is evident from the fact that the Google logo graces the rear of the phone. The phone runs on Android 2.2 which is popularly known as Froyo. You may be disappointed to know that this phone doesn't support Flash. But the phone works very smoothly and Gmail, Google maps, and email open up in a flash. And it is a well known fact that the Apps make the phone, so that department you would have to look for on your own according to your needs. The U is great and you can customize the phone in any way you like. It lags in the looks department though.
USP
The features it packs in the price range are great. It also supports Wi-Fi. Usable in every way.
Pros
1. 802.11n Wi-Fi enabled
2. Android store on your tips
3. HSPA enabled
2. Samsung Galaxy 5 I5503
Price: $183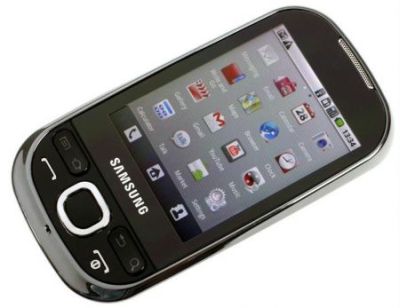 If you love Corby but hate the fact that it isn't Android, then this is the phone for you. With 'Corbish' looks and powered by Android 2.1, popular in the computing world as Éclair, this phone is friendly on your pocket while packing great features. It has a 600 MHz processor, a micro SD card slot which can be extended upto 16 GB. It has a 2.8" capacitive TFT touch screen with QVGA resolution. It is also Wi-Fi enabled, and supports HSDPA 7.2 Mbps. It is integrated with social networking, and is a nice user friendly device. The camera is not that great, only 2 MP. And the phone features a 3.5mm audio jack. The camera also has a smile shot. The phone has access to Android store and you can download Apps which you feel you need.
USP
The features are great, and the memory can be extended to 16 GB. And the looks are cute also. The TouchWiz UI 3.0 is great for smooth typing.
Pros
1. The OS can be upgraded to Android 2.2
2. HSDPA 7.2 Mbps supported
3. Capacitive TFT touchscreen
3. LG Optimus One P500
Price: $210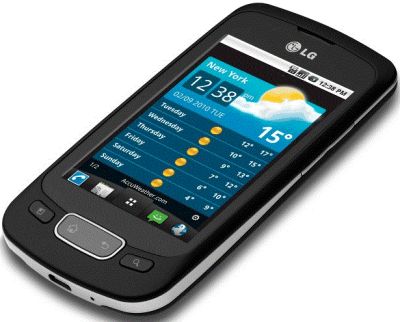 This is a great phone which has great features. It runs on Android 2.2 Froyo, and powered by a 600 MHz processor. The internal memory stands at 419 MB, and a 2GB external memory card is provided. You can extend the card till 32 GB. The touchscreen is TFT capacitive, filled with 256k colors. And it has an accelerometer for auto rotate and a proximity sensor for auto turn off. The phone is loaded with GPRS, EDGE, 3G and Wi-Fi. The phone also supports a USB port. The camera is 3 MP, with features like Geo tagging, face and smile detection, and also an option of beauty shot. It also comes in various colors like black, wine, titan, blue, silver and purple. No secondary camera is provided.
USP
The camera is good, though not better. It packs an assortment of features like accelerometer, proximity sensor and apps like office document editor.
Pros
1. A large number of features packed in it.
2. The external memory can be extended upto 32 GB.
3. HVGA resolution.
4. HTC Wildfire
Price: $250 from Amazon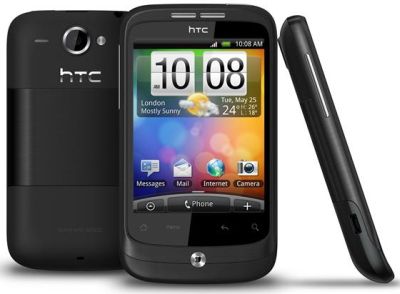 This phone comes from a stable which is known for producing good technological gadgets. It is powered by Android 2.1 (Éclair). It is capacitive touchscreen with 16M colors. The display is Gorilla glass, with the feature of multi touch. There is an accelerometer for auto rotate. There is also HTC Sense UI, which helps the user interact with the device more intuitively. The internal memory is 384 MB RAM and 512 MB ROM. The phone does not come with any external memory but has the option of being extended till 32 GB. The phone is Wi-Fi enabled and the camera is great. 5 MP of fun with LED flash. Social networking is integrated like Facebook, Twitter and Flickr. The phone is Java enabled and features a digital compass, a dedicated search key.
USP
The phone is impressive with a great camera and can be upgraded also.
Pros
1. The OS can be upgraded to Android 2.2.
2. Camera is great with LED flash.
5. Acer beTouch E110
Price: $183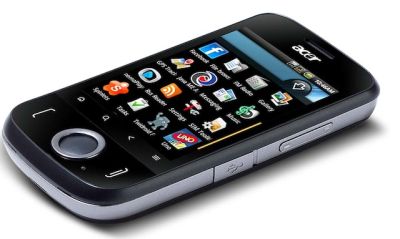 One of the cheapest Android phones available in the market. Though the Android OS is a little outdated, it uses Android 1.5, popularly known as Cupcake. The phone has a resistive touchscreen with 256k colors. The phone is 3G enabled with dual band HSDPA. It does not feature Wi-Fi though. It comes loaded with GPRS and EDGE. The camera is a so-so 3.15 MP. It comes in two colors, black and dark blue. The internal memory comprises of 256 MB RAM and 256 MB ROM. External memory can be installed. The processor is 416 MHz ST Ericson PNX6715. The player features a Nemo player which is a fun way to enjoy music, movies and videos. Spinlets app lets you share music with friends and family via web. The phone features a 3.5 mm audio jack which is standard in almost all phones. The phone supports MP3/WAV/WMA formats. The Acer multimedia menu lets you interact with the phone more intuitively. Acer web widgets is also a new integration into this device. Pocket office makes your life easier on the go.
USP
Cheap and comes loaded with a decent camera. Acer Nemo player is fun to listen music on.
Pros
1. 2.8" resistive touchscreen makes it ready for wear and tear.
2. One of the lowest priced phone with Android.
6. Dell XCD28
Price: $244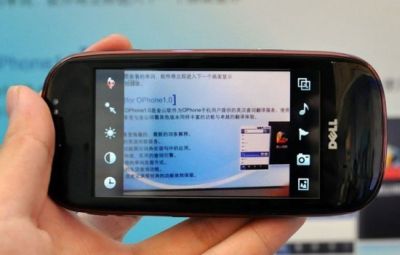 This phone runs on Android 2.1, popularly known as Éclairs. It is powered by Adreno 200 GPU with ARM processor with a clock speed of 600 MHz. The camera specification is 3.15 MP with autofocus capability. This phone features a TFT resistive touchscreen infused with 256k colors. The internal memory has a capacity of 200 MB of storage with 256 MB RAM and 256 MB ROM. The external memory comes with 2 GB of memory card, and can be extended upto 8 GB. The device is integrated with GPRS and EDGE technologies. The chipset is Qualcomm MSM7227. The device is 3G enabled with HSDPA 7.2 Mbps. A USB port is provided for communicating with other devices.
USP
The device has a lot of features and it comes from the Dell stable which is known for their hardware. It's a great all-round phone.
Pros
1. 200 MB internal storage.
2. Java enabled.
7. Sony Xperia X10 Mini
Price: $235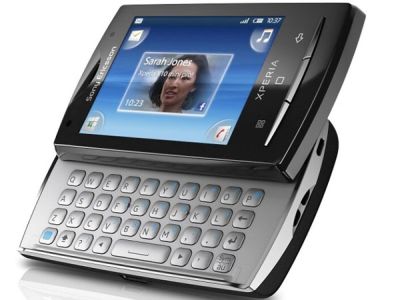 This phone is the junior version of Sony Xperia X10. This phone is a good fit in your hands and is very portable and compact. It runs on a customized Android 1.6 kit. The screen is TFT capacitive touchscreen with 16M colors with scratch resistant surface and an accelerometer sensor for auto-rotate. The timescape UI is great, and it enables the user to connect with the device in a better way. The camera is 5 MP with autofocus and LED flash. The internal memory is 128 MB and the external memory can be extended till 16 GB and a 2 GB card is included initially. A micro USB port is provided for communicating with other devices. The Android 1.6 Donut OS can be upgraded to 2.1. It comes in various colors like gold, pearl white, black, pink, lime, red and silver.
USP
The camera is good with features like autofocus and LED flash. The processor is 600 MHz ARM 11 processor.
Pros
1. Digital Compass
2. TrackID music recognition
3. OS can be upgraded to Android 2.1