Cellphone modeling steps in when regular designs fail to inspire those who crave for ingenuity. Cellphone modeling aims to revamp an existing piece of cellphone hardware. Mostly, the software and general functionality of the mobile phone remains intact. It's just the external peripherals, or the external casing that gets the face-lift. A revamp would be an understatement – a total zany, or wacky relook of the original thing!
Design wizards have up come up with certain, mind-boggling cellphone mods, which you would definitely wish to own. Have a look at the best cellphone mods ever created…
Transformers Phone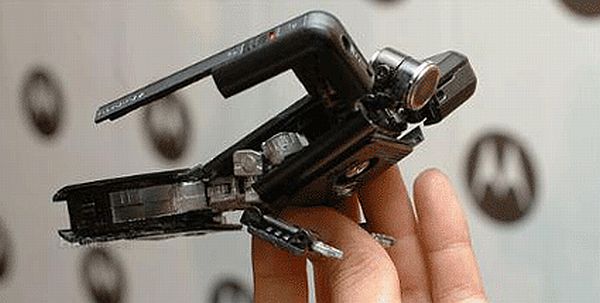 This is the Motorola ROKR. Designed by a person whose identity is yet to be established, this mobile has been modded like a robot. In spite of the number of arms, the robot-mod is still functional. You can make calls, take pictures, send messages, etc. Looking at the pictures, it surely looks as an abstract creation from an inspired mind. Shaped like a robot with a small riveting head acting like a fulcrum for two arms; all the arms are foldable to an extent. At first sight, it actually looks like a robot. But when you start using it, it's even more fun.
Steampunk Smartphone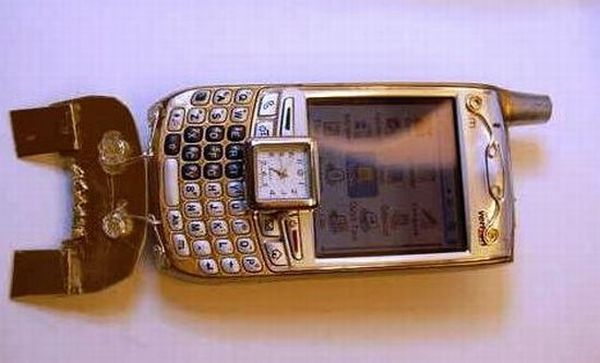 This is a Steampunk Treo Smartphone Mark 1, designed my mspark400. It has a watch dial in the center. Giving it a blend of authentic Steampunk design and modern contemporary smartphone aesthetics, the watch dial does not look odd — functionally or by design.
Glittering like gold, but made of brass, the smartphone mod is decked with leather. The one hundred percent functional smartphone functions exactly like one, despite its various external modifications. For Steampunk aficionados, it's another one to have in their kitty.
Going by the brass and brawn looks, the Steampunk smartphone mod does indicate the Steampunk inspired design generation of yesteryear. Sleek and rugged do not go together as adjectives to describe something. But when you look at this smartphone, you can't help but notice that sleekness and ruggedness can accommodate each other.
Steampunk Cellphone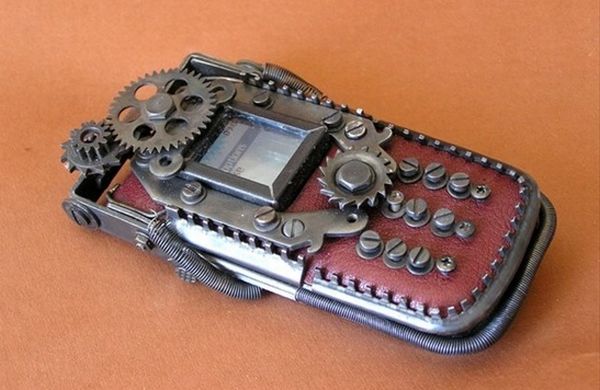 Reminiscent of an age when mechanical devices were the talk of the town, this phone attempts to recreate that vintage nostalgia. Layered on the phone is an assortment of mechanical composure. Almost looking like a gearbox at every angle, the cellphone mod could pass of as a Martian product countervailed on Earth!
The phone is Nokia, in fact the classic one. And what's atop it is everyone's guess. You may call it vintage, or even classic. But it's just pure Steampunk. Two jagged-wheels – one bigger than the other are placed on top of the display. There is a spring attached at the sides. The make is all brass and leather.
The buttons are replaced by screws. Not that you'll turn them, you'll push them like you would normally do. And how'd you operate the cellphone? There's a navigation wheel in the center that lets you do it. Turn the lever around and navigate through the screens of the cellphone.
NES Controller Cellphone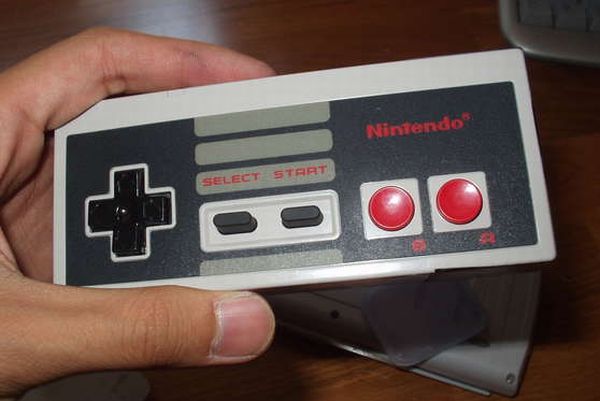 Looking at the NES Controller Mod, it's no surprise that it got this much media attention. It's actually a Motorola C168 squeezed into a NES Controller's tiny compartment. Amazing isn't it? In the age of nanotechnology, this is one tight squeeze!
The designer got the idea at a local games store. After chancing upon a NES Controller, the designer felt it could make a cell phone too. In fact, a one-of-a-kind looking cell phone! So that's when the whole thing started. And even grabbed media attention!
Sometimes combining one cool piece of gadget to another, makes an even better creation. Call it gadgetry wizardry. Now it's official. Nintendo's NES Controllers have an all-new role to play now. Thanks to a mastermind who spend his overnight speeding up his creation. And ironically, he did have it – overnight success!
Nintendo Game & Watch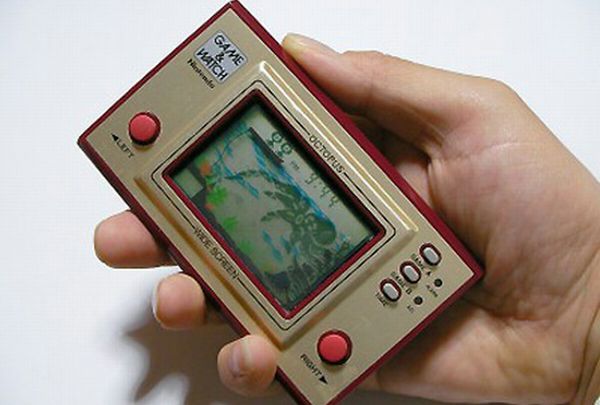 What happens when you combine a 1981 Octopus Nintendo Game & Watch with a cellphone? you get a new wacky looking cellphone that is probably the best gaming/cellphone handheld device ever. Firstly, it's a game and secondly, it's a watch, and thirdly (now), it's a cellphone and not necessarily in that order. If you have one of these in your hand, you wouldn't pass off as a crackpot, but as a cracker of a person!
The crazzy modder, the brain behind this creation, used his bare hands to prop this stuff up. Without any tools, or infrastructure or anything. Could we call it hand-made? Yes, you could. As for the cellphone, it does work the way you'd want it to. But hell, who wants it to work, as long as it grabs eyeballs!