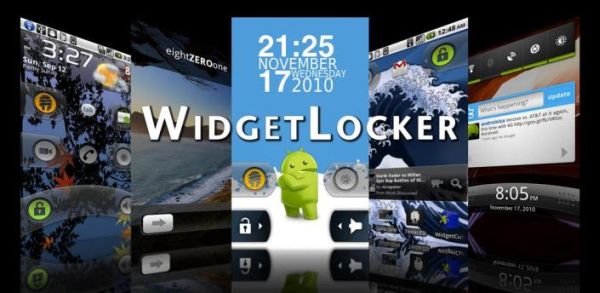 People have a fascination for lock screens. It is similar to having a screensaver. However, screensavers can be hefty to operate. Lock screen is a different concept. Lock screens prevent accidental operation of the phone. Most touch-based phones can start with unintentional contact, if they are not in lock screen mode. If you do not have a lock screen, you may end up making accidental calls or other operations from your phone. People with smart phones always want their phone to be trendy. The younger generation does it for maintaining their style statement but the working class needs frequent update about time, date and schedule without fiddling with the phone. Therefore, having a lock screen becomes mandatory for everyone. Here are five such lock screen widgets that will surely enhance your ease as well as provide protection to your phone while not in use.
WidgetLocker Lockscreen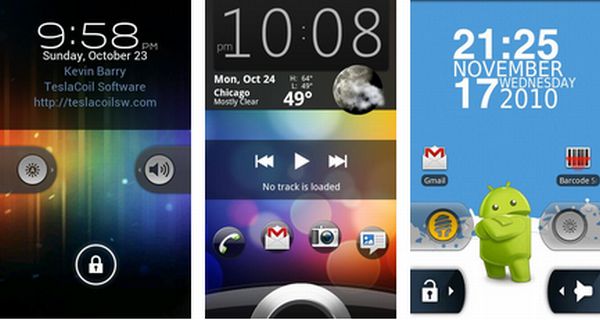 WidgetLocker is a lock screen widget by Teslacoil. It is completely customizable in terms of looks, design and the outline of the screen. It has Drop and Drag placements with sliding action support, many new OS based Widgets and Application. The Sliders have multiple inbuilt looks starting from Ice Cream Sandwich, Gingerbread and other versions for and all major brands. However, you can completely customize it to your choice. It can even be programmer to start your camera or speed dial your favorite number. The widget can be made to appear in any of the sized you like with constantly updating notification via the ADWNotifier. It can be even programmed to have one touch button to lock and open your screen. The design is based on ADW based Launcher making it quite unique and user friendly. You can buy it for $3.
LockBot Pro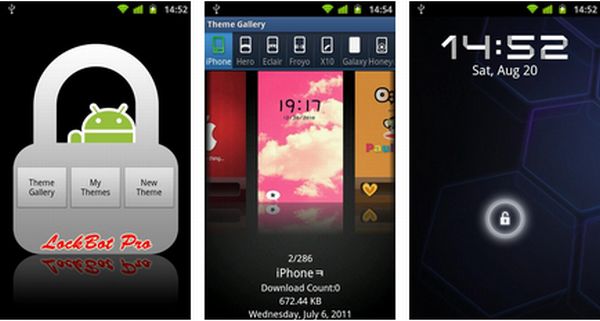 Lockbot from JackDolt comes in multiple themes making it easy to get customized in any kind of phone. You can choose the screen from any of the top picture hosting sites like Flickr or Picasa. You can even use the cell phone's SD card to display the picture of your choice. There are several features like changing the locking sound, having your own playlist and changing the clock style. You can also set the lock screen to unlock with a shake. It comes at a price of $4 USD.
LockMenu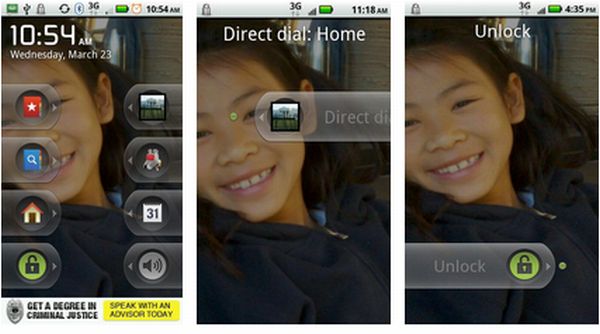 If you are thinking that having a lock screen will slow you down, then you should go for Lockmenu that allows apps and shortcuts to be launched even when the phone is in locked mode. You can switch off the Android desktop and work with the lock menu only. There are certain new changes made with the upgraded app that allows checking your battery status, customize backgrounds, set alarm, accessing you menu screen, shifting your phone status from free to silent mode. They even have free SMS notifications for new upgrades. It is freeware that can be downloaded from Developer HuSmith Inc.'s website.
GOTO Lockscreen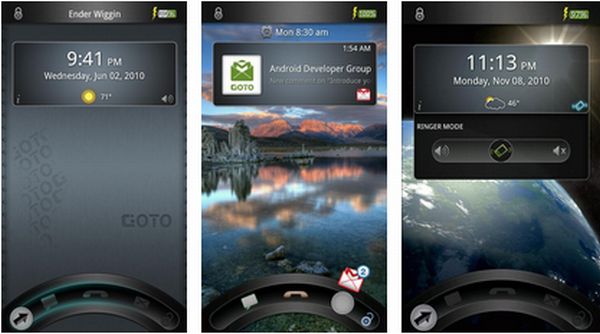 GOTO is one of multi utility Android lock screen by InnoWeb Tech LLC. You can get your mail notifications, missed call information, messages and local weather. It even gives a snapshot of the current status of your inbox. However, the amazing feature is you can return missed calls immediately going through the call log shortcut. You can change your theme and background images all the time. When you move your slider, then you can actually visit the app and do all its function directly from your lock screen. It even update with regular feedback. It even supports text messaging and other phones services. The GOTO Lockscreen actually works like Android work station desktop that makes it easily accessible. It is compatible with all the smart phones of major companies that work on Android OS. You can buy it for a little less than $2 USD.
Simply Lockscreen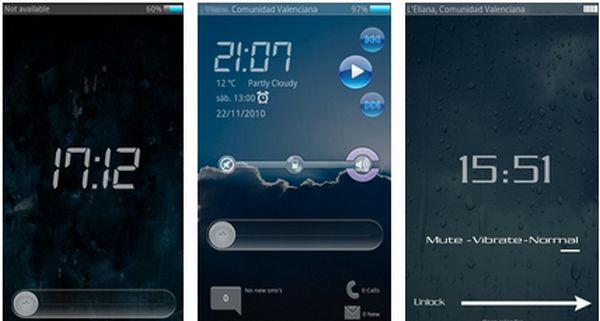 If you want simplicity, then the Simply lockscreen from FireZenk will be absolute match for your smart phone. It is extremely fast and beautiful. It does not have too many control buttons to move around. However, it gives you information about your battery usage, shows your music player with the current music on and highlights any calendar event. It even gives you information about your local weather and GPS location. The newer versions are even supporting volume changes. It is completely customizable to show the background of your own liking. You can opt for simple downloads or you can put one from your own SD card. It is compatible with all major phones and can be customized to match the design. It is freeware that you can download from the FireZenk website.