When it comes to taking high-quality crystal-clear photos with a camera phone, most of us still rely on Nokia. The latest Lumia 1020 launched by the Finnish multinational corporation is the biggest hit till now with its 41 MP pro camera sensor. Even though the bar has been set pretty high by the company, taking snaps like a pro with just any smartphone has become a reality now. There is a new detachable lens named Olloclip, which can be used with almost any smartphone handset for taking professional-looking photos. Know more about it here: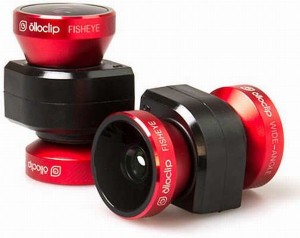 Why Olloclip?
According to a survey, almost 82% smartphone users around the world take snaps with their handsets though none of them offers highly advanced camera applications. Usually, the standard smartphones available in the market come with cameras ranging between 5 MP and 8 MP as well as certain image editing tools. In order to help high-end cell phone users create brilliant image arts with their gadgets, Olloclip has come with the small pocket-sized device, which can enhance the quality of the images taken by any smartphone to a great extent.
What is Olloclip?
Olloclip is basically a separable aluminum device that can be attached to various smartphones like iPhone, iPod, etc. for taking perfect photos with minimum distortion of lenses. The pack of Olloclip comprises 4 distinctive lenses among which 2 are macro lenses (15x and 10x zoom) and other 2 are fisheye lens and wide-angle lens respectively. Users can screw and interchange them on the attachment as per their requirements and come up with a variety of effects. As the entire system is based on the 'enhanced optic technology', utilizing the default megapixels of the camera becomes much easier for the users.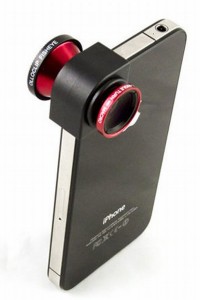 Key Features of Olloclip
Olloclip is compatible with iPhone 4/4s and 5/5s. The dimension of the attachment is (1.5″ x 1″ x 1″) and it weighs around 0.8 oz. The lenses of Olloclip can be used for both photo and video modes just like the DSLR cameras. Both of the macro lenses (10x with 18 mm. focus distance and 15x with 12 mm. focus distance) can be toppled for a better zoom depending upon the type of the camera. Users can get the 180-degree field-of-view with the help of the fisheye lens has, while the regular field of view of the smartphone can be improved with the wide-angle lens easily. The Olloclip is available in three different shades – red, black and silver.
Cost and Availability
This exclusive device is yet to be released in the market. However, consumers can pre-order it now by spending £69.99 and the shipment will start from November.