We are currently in such a busy world where meeting friends regularly in a park or a movie is quite impractical. Most of your friends might live 2000 miles away from you or may be in a different continent altogether, so keeping in touch with all of them becomes not just difficult but impossible. This is where we crave for social networking sites that can helps us know about our friends and family regularly. Social networking sites like Facebook has changed the way people interact. Now with release of much exalted smartphone by Apple, iPhone apps are gaining more popularity. Even better, social networking sites like LinkedIn and Facebook are now available as an application so that you could be in touch with your friends always. Here is a list of 10 best social networking apps for iPhone.
Facebook App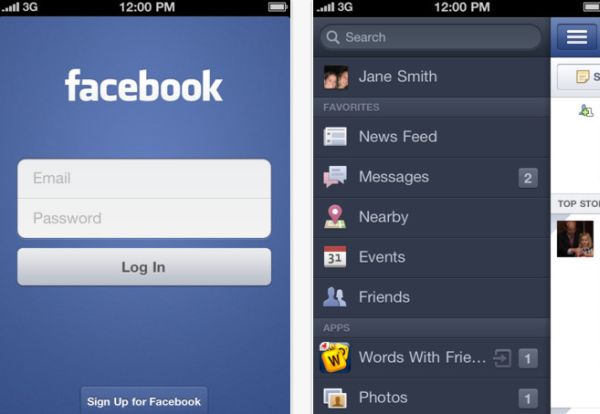 This is one of the apps which each one of you expected here in this list. World's most popular social network site is now available to you always through this free Facebook application. Now stay connected with your friends and family even while you are away traveling. Share your high resolution pics, videos and update your status messages regularly. With this app in your iPhone, you would stay connected to the world no matter where you are and what you are doing.
Twitter app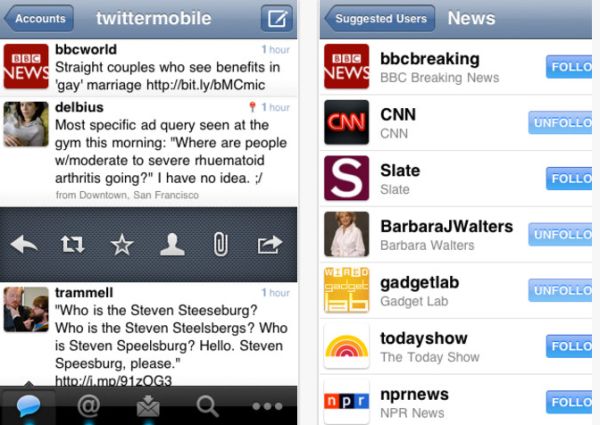 Twitter revolutionized the concept of blogging and brought a new generation next concept called micro-blogging. With the twitter application on your iPhone you can tweet at your will. Read your friends messages, follow your favorite celebrities and share your thoughts, pics and videos directly from your iPhone. And this app now comes absolutely free of cost.
Meebo app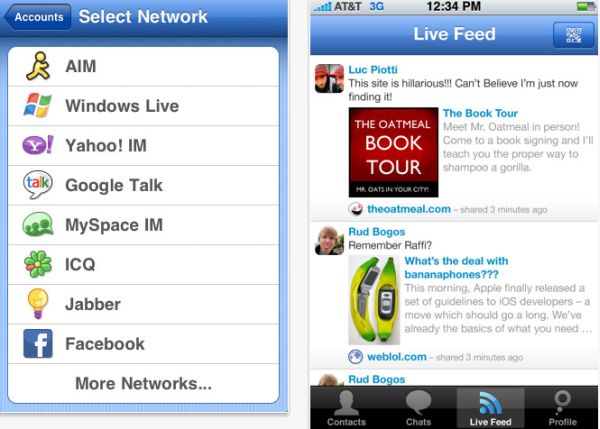 Meebo the most popular all-in-one instant messaging site is now available as an application for the iPhone. Now with the plug-in you don't need any browser to support the Meebo functionality. Meebo supports all the popular IM clients like Yahoo, Google, AIM and more than 100 other networks. Now this app also lets you receive feed updates from Facebook and twitter.
IMO Instant Messenger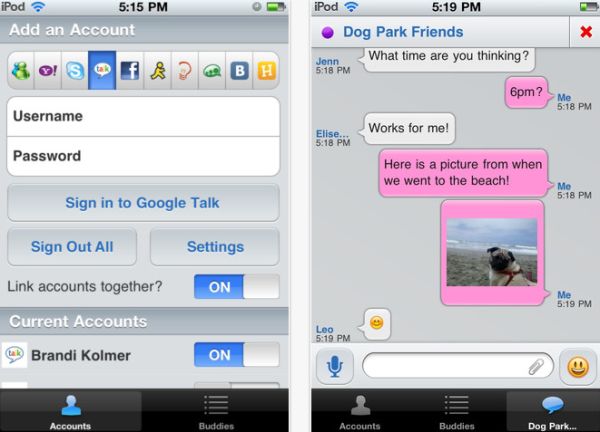 Rated as the best instant messenger app for iPhone, IMO comes could even overtake the Meebo app for being the most used app for instant messaging. Through this app, you can stay in touch with your family and friends through Facebook chat, Google chat, Skype, MSN Yahoo, Myspace and many more IM services. You can talk with your friends through this application and save passwords for all the clients to log in faster.
TweetDeck iPhone App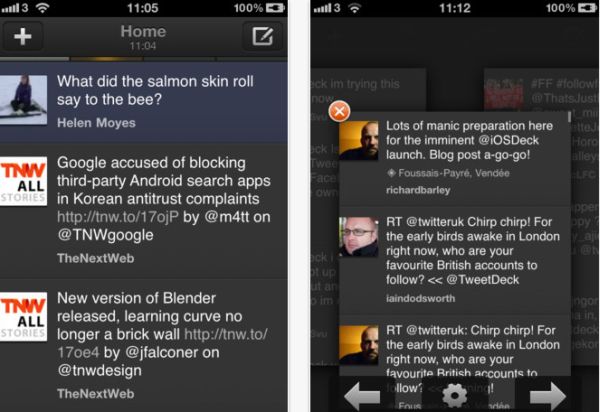 TweetDeck is simple yet flexible and powerful application that allows managing your Facebook and twittering account simultaneously under a single dashboard. Now with the customizable dashboard, you could post Facebook updates, comment of your friend's pics & posts and like them, all through just with a tap of your finger. You can use almost all the Twitter functionalities like tweeting, re-tweeting, searching, posting to multiple accounts with ease.
Uface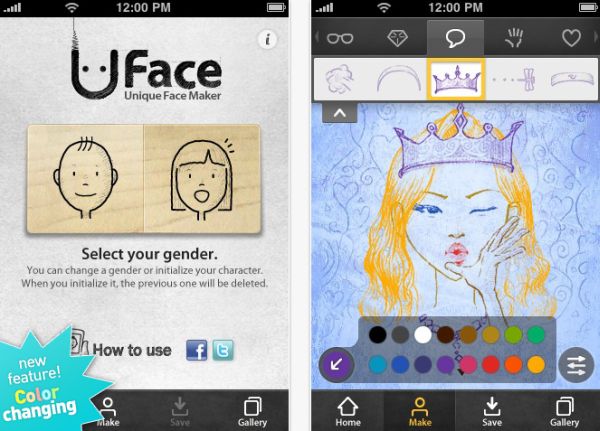 Uface is an easy picture drawing application that allows you to create sketches of people by just moving your finger through the screen. The application automatically senses the movement of your finger draws sketches just like professional artist. With over 500 character items at the disposal, you can try any set of combination to arrive at an expected result. This app also lets to share the sketch that you created to Facebook and Twitter immediately.
Gowalla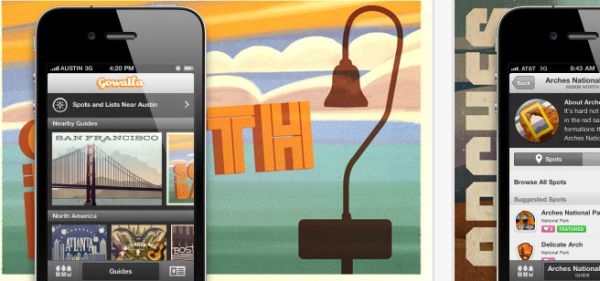 Gowalla app provides a mechanism to explore and know about place by serving as the social guide for some of the worlds most famous cities and places. You can view where your friends visited and the best aspects of the place, sites to explore there. You can share your views, pics, recommendations of your visit through this app that could prove to be useful for others as well.
LinkedIn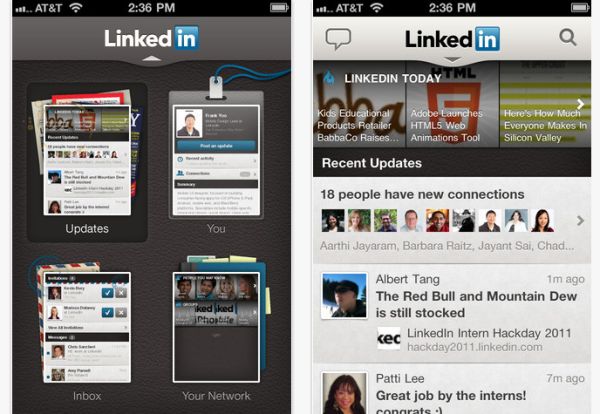 With over 120 million users worldwide, LinkedIn is the worlds largest professional network and with the LinkedIn app in your iPhone, you can be up to date with the latest industry news and can discuss on various topics pertaining to the professional front.
Foursquare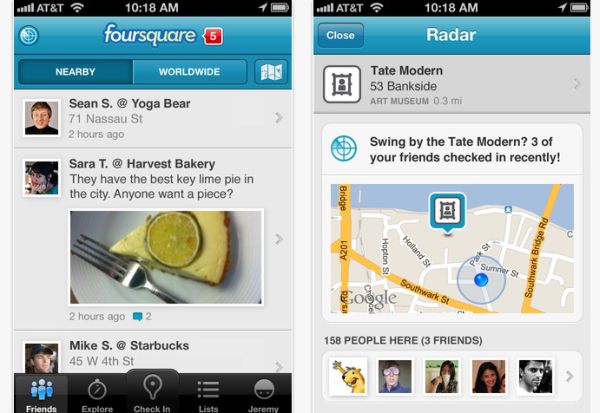 One of the best apps that would let your explore new, amazing places around you. You can know where your friends are and you can let your friends know if you are finding some place interesting. Give and seek recommendations. You even get discounts and freebies for being foursquare costumers.
Gist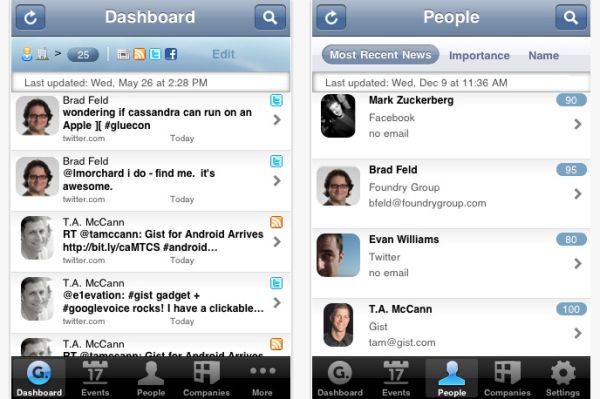 Gist brings together all the contacts from your inbox and address books and then adds the news status updates to them in a order that helps to build the professional network. It even prioritizes the news and updates to make sure that the most recent news or updates is at the front.