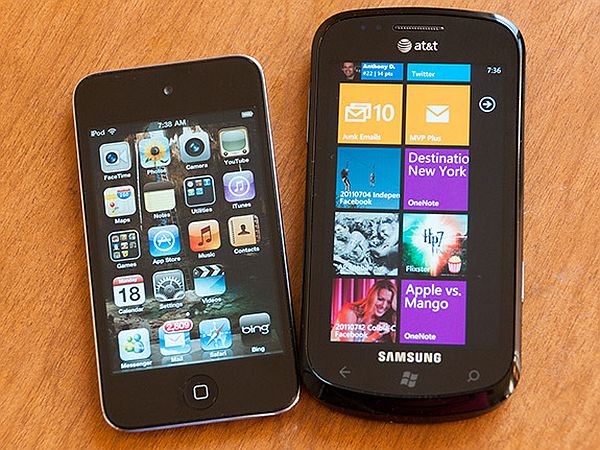 Apple iOS that runs on the world's leading smartphone iPhone is facing some serious threats these days. Apart from the ongoing challenge from Google Android, Microsoft's Windows Phone 7 Mango is also growing as a big threat for iOS. Though reigning supreme in the global smartphone market right now, Apple iOS, according to some surveys, is to be overtaken by Windows Phone in recent future. A recent IDC (International Data Corporation) survey says that by 2015, Windows Phone will move up to the second position in market share behind Android. By that time, the current leader iOS might have downgraded to the third spot.
No matter whether the IDC prediction will realize or not, we are now just talking about some potential advantages the WP7 Mango enjoys over Apple iOS. Windows Phone is, in fact, in its infancy stage. Lots of improvements need to be barged into the platform. Perhaps, we can expect many of them in Windows Phone's next major upgrades, the much-awaited Windows Phone 7.5 Mango and Windows 8.
1. User Interface
Microsoft is doing hard work to flourish up an innovative user interface on its Windows Phone operating system. In reality, it is a tactic of the Redwood software giant so as to grow its roots further into the market, where it has no significant presence as of now. Windows Phone's so-called Metro UI and Hubs are to realize a new tile-based home screen. Different from the traditional icons, WP7 has tile-like icons, which leave ample space to list the updates of every application. That means you can know whether you have a new mail just looking at the home screen.
2. App Store Vs Marketplace
Apple has thousands of worthy apps for iOS platform on its App Store. But the thing is that you have to pay for every quality app on Apple App Store. It is here Windows Phone 7 Mango's Marketplace attempts to become different. Microsoft has reached in agreements with the leading content developers like EA to design special games and apps for its Marketplace. Moreover, Microsoft itself has its exclusive Xbox titles, Office packages and media player to stun its Windows Phone 7 users.
3. Multitasking
Multitasking is one of much-wanted features on a smartphone now. Both the Apple iOS and Windows Phone offer improved multitasking features, which will help you run many apps and navigate through them at a time. Indeed, Windows Phone 7 has a powerful multitasking capability that makes it not lagging behind any of its rivals.
4. Browser support
Whatever you say, Microsoft's Internet Explorer is a dominant Web browser. There may be hulky competitors like Apple Safari and Google Chrome, but a huge share of computer users in the world are still attached with the IE. Windows Phone 7 Mango is there for you with the IE 9, the latest of the Microsoft web browser.
5. Apps and Music Stores
Apple iOS' App Store and iTunes may be belligerent in the industry. In fact, so fantastic are Windows Phone Mango's Marketplace and Music Stores. Whenever you make a visit to the Windows Phone's Music Store, it will welcome you with a fresh background image as it is with Microsoft's Bing browser.
6. Battery life
Battery life is an important factor that you will consider very much when buying a smartphone. Indeed, battery life is highly related with the hardware product, but the software also has a big role in determining one device's battery life. As per analysts, Windows Phone 7 Mango consumes less energy of a compatible device than Apple iOS.
7. Music Player
Windows Phone Mango is up with the celebrated Zune Player. It looks like that not any other media players, either on iOS or Android, are competent enough to fight against Zune player. Though Microsoft's Zune Media Player project was a failure, its software has been remaining a huge success for a while.
8. Price factor
It is clear that smartphones that play on WP 7 are cheaper than Apple iPhones. Most often, third party technology makers manufacture hardware solutions for Windows Phone 7 Mango. Apple iPhone is built by the company itself.
9. Web browsing
Microsoft owns not only a Windows browser, but a respected web search engine also. Microsoft Bing may not be much influential in front of Google web search; however Windows Phone 7 Mango incorporates Bing so as to make web browsing a nice and, of course, an indigenous experience.
10. Device choices
You have lots of hardware choices if you go for Windows Phone Mango 7. When Apple itself builds its iPhone, Microsoft just gets the WP7 smartphones manufactured by leading technology makers like Samsung, Nokia, HTC, Acer and many others. It means you will have a wide distribution of smartphones under the roof of Windows Phone Mango.
Conclusion
Whatever, a battle between Windows Phone 7 Mango and Apple iOS has not been there. Even if someone may claim it has been there, then we would have to just say that WP 7 was an utter failure in front of iOS, because that was the domination of iOS over the smartphone industry over the months. It does not mean that Windows Phone can never raise threat to iOS or others. Of course, Windows Phone 7.5 Mango and its updates may be there to rekindle a new battle in the industry.