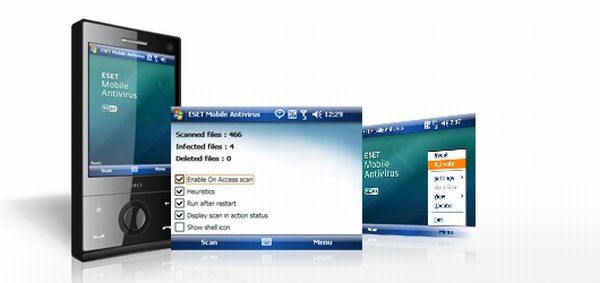 The word 'Virus' itself makes us uncomfortable for it can create havoc in our lives. Well, here we are talking about viruses that infect computers. And now, with smartphones bubbling in the market, hackers and attackers have not remained far behind in attacking these phones. Smartphones are mainly used for sending and receiving e-mails, surfing internet and lot more. With this, there has been an increase in the risk of being attacked by a malware or virus. Given below are ten anti-virus that provide a shield to your smartphones.
ESET
Meant for Symbian and Windows smartphones, this anti-virus will save your phone from theft and spams. Not only this, it also has an impressive firewall which helps to keep your data secured and its does not occupy much space on your phone. One of the best things is that you can trace your communications. You can keep your Wi-Fi, Infrared, Bluetooth, GPRS, etc. safe with ESET. Its most brilliant feature is SIM Matching which allows you to make a list of SIM Cards for device and in case someone tries to perpetrate, you are notified with a message containing the person's phone number.
BullGuard Mobile Antivirus 2.0
This anti-virus is compatible with Windows, Symbian, BlackBerry and Android. It comes with power packed features such as firewall protection, anti-theft, anti-spam, and lot more. One of its interesting feature is Parental Control which allows you to know the site's which your children are surfing and lets you create a list of websites they should not visit. The anti-virus also provides a great back-up feature to ensure no loss of important data.
Robota Mobile Anti Virus
Designed for Symbian mobile phones, installation and cost factor are things that you can forget about when using Robota. Just install it and run the 'Scan All' option in its menu. This was mainly designed after the Nokia 6680 phone was prone to viruses.
avast! PDA Edition
Avast is one of the identified and acknowledged names among anti-virus software and is considered to be the most effective. Palm OS and Windows CE would run safe and sound with this software. Pocket devices would find utter safety with the PDA Edition.
Doctor Web
This is perhaps the only anti-virus that shields your android based smart phone from a notorious malware named Android.Spy.54. Doctor Web is also compatible with Windows Mobile and Symbian OS. Having a great interface, the anti-virus consumes minimum space on your phone and scans as fast as lightening. So, with Doctor Web on your phone, you can be assured of your important data.
Kaspersky Mobile Security
A versatile anti-virus, it is compatible with almost all kinds of smart phones. Go for a free trial and if you find it good, then you can purchase it for $29.95. It provides you with the facility to block unwanted calls and messages. Kaspersky provides a complete protection right from virus, malware, worms to malicious applications. The best part about this anti-virus is that it allows you full control over your phone book entries and hides them.
McAfee VirusScan Mobile
McAfee is a respected name when it comes to protecting computers. Now, these techies have come up with protection for mobile phones. This anti-virus protects your phone from Trojans, spywares, worms, virus and lot more. One of the best things it provides is protection from malware that suck your battery life. The anti-virus also shields Bluetooth, MMS and SMS. So, happy internet surfing and messaging with McAfee VirusScan Mobile!
AVG Pro
Meant for phones which run on Android OS, AVG provides a complete protection against virus, hackers and spams. It comes in free as well as paid versions. Its prominent features include a phone locator, phone locker, lets you know about apps that affect the performance of your phone and secured web surfing.
BitDefender
One of the favorite anti-virus software, BitDefender Mobile Security provides the best shield to your smart phones and PDAs. Launched in 2007, the anti-virus has amazing features like continuous monitoring, deleting the infected files, checks memory cards on your device, and optimizes scanning to reduce battery consumption. It is compatible with Symbian 60 and 80, Microsoft Windows, 2002 and higher versions of Pocket PC and Windows Mobile Smartphones.
Flexilis Mobile Security
With this anti-virus on your system, you can download whatever you wish with no worries. Occupying minimum space on your smartphone, the anti-virus provides protection against malwares, spams, and hacking. You can backup your crucial data and have a sound sleep. It works on Windows Mobile Pocket PC 5, 6, and 6.1.