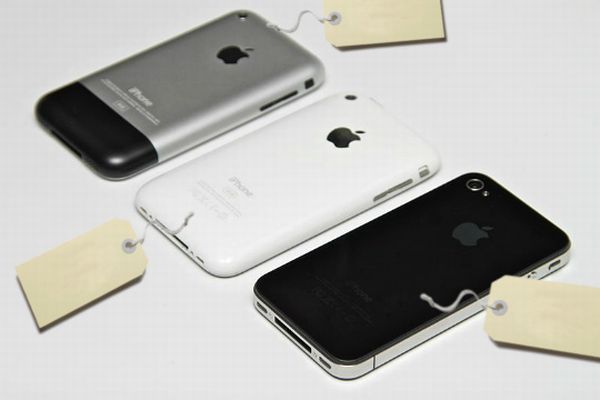 The iPhone fever is really hard to go and there is practically no stopping to the fans following the iPhone. The iPhone was famous for its unique design and awesome features. The Apple is known for making quality product with best in class features and is always in the news for its new gadgets. Now with the release of the iPhone 4S, Apple has completely taken over every brand in the world. And if you are an Apple fan and planning to buy the new iPhone 4S, we have some ways for you to use your old Apple iPhone. There are plenty of ways an iPhone can be used to perform various tasks but a few of them are just awesome and are worth of trying. Here is a list of 10 unique and creative ways to effectively make use of your old iPhone. Have a look!
1. Use it like an iPod touch
The music part is something which can't be ignored in the Apple devices and they are known for their awesome sound and video qualities. So you can make use of your old iPhone as a iPod touch as it has almost same features of an iPod. You can just disconnect the cell phone services in your iPhone and then it serves pretty well as an iPod.
2. Hand it down to someone else
This is one of the better options for all those Apple fans out there who are craving to get the new masterpiece. You can just handover your old iPhone to your dear ones. Just let them also enjoy the features of an Apple product. You can gift it to someone you like the most or can just handover to your small cousins and for sure they will love using the iPhone.
3. Use it as an alarm clock/bedstand device
If you want to get rid of your traditional alarm clocks, then here is the best option for you. Make use of your old iPhone and use it as an alarm clock every day. This will be some kind of ultra-futuristic clock which will offer you way better services when compared to your traditional clock. Also you can use your old iPhone to make a bedstand device so that you can easily keep your new iPhone on your pocket and roam around.
4. Keep it on hand for multiplayer gaming
The gaming experience is just awesome when you are dealing with an iPhone. So, why not make use of your old iPhone as a gaming gadget? Play your favorite angry birds or any other racing game for long hours without bothering about the battery or calls as it is just an option phone for you. Also you can allow your guests or friends who often visit your home to have a gaming experience on your old iPhone.
5. Use it as a spare camera
The iPhone 4 has a pretty awesome camera and for sure you will love taking snaps of places or people with that lovely gadget. So, now when you are planning for a new iPhone device, you can make use of the old one as a spare camera. This way can make it easier to keep your new iPhone into your pocket while exploring the world.
6. Keep it as a backup
This is one of the safest and coolest ways of making use of your old iPhone. Use it as a backup phone for emergency purposes. What if your new iPhone gets damaged or anything happens to it, you can still have an option until your new device is replaced or is repaired.
7. Sell your iPhone
This is an option for all those who want to get some bucks out of their old iPhone. You can auction your iPhone over internet or you can sell it through the Apple or Nextworth and you can easily make almost $215 out of it. And if you still need a phone for backup, consider buying a cheap phone as they work well as an optional phone.
8. Use your iPhone as a webcam or to stream video
This is one of the coolest options for all those who have been looking for ways to reuse their old iPhone. You can effectively setup your old iPhone to make it work as a webcam. Well its fast processor can also be used to stream videos at a rapid fast rate.
9. Use your iPhone as a remote control
Now if you are bored with your traditional remote control systems, here is something new and latest for you. Transform your old iPhone into an interesting and stylish remote control system just by making use of some apps. It works pretty well with Apple TV also.
10. Use your iPhone as an e-book reader
Now this is something for all the book freaks out there. You can easily transform your iPhone into an e-book reader and it works perfectly. So, now you don't have to carry all those bulky books as this device offers plenty of e-books with awesome quality. This option is really worth of trying.