As smartphones are gaining great heights in popularity, so their accessories are. These accessories are used for mobile multitasking devices.The most important companion for your phone is definitely the hands-free Bluetooth headset.Usually, Bluetooth headsets are defined in to three categories- the traditional mono- single-ear headsets; stereo headsets- which use both of your ears for a surround-sound experience for calls and music; speakerphones – which don't connect to your ear but instead project voices so you can hear without an ear to your phone.
Let's have a look at the top 10 highest-rated headsets of all three categories.
1. LH-689 Bluetooth Headset
Price: $15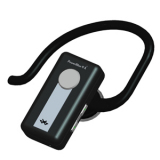 LH-698 is a Chinese product with Bluetooth specification v2+EDR class2. It has hassle free single button control with adjustable volume. It comes with a mini USB charger.You can get it charge within three hours. The Bluetooth gives you 4 hours talk time with 200hours standby time.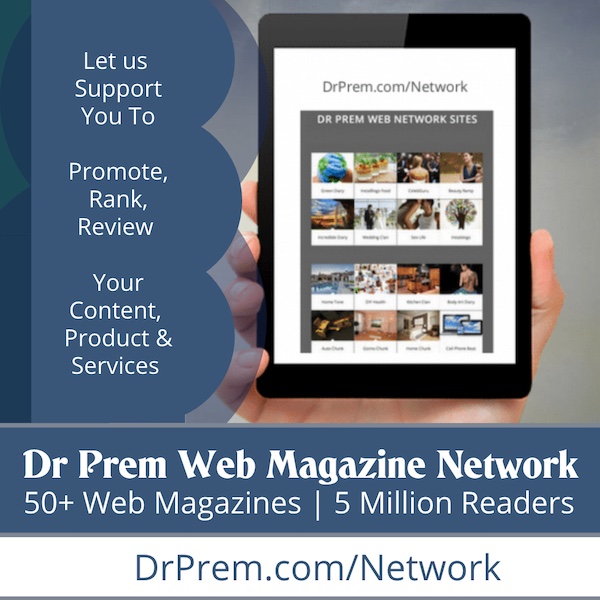 USP: It's a potential audio computing platform.
Pros: Good-looking affordable Bluetooth headset.

Cons: Sound quality can be just a touch muddy.
2. BlueAnt Q2
Price: $129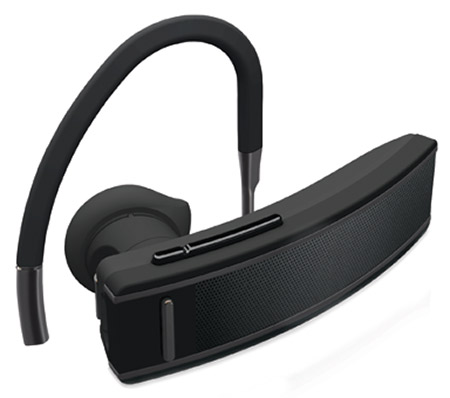 The BlueAnt Q2 has the features of automated voice search, companion Android and BlackBerry apps and A2DP music and GPS voice prompt streaming from smartphone apps. It is an executive-style headset made up of entirely matte black plastic.Its textured front panel and raised edges give it a classy look. Q2 has many useful hardware controls including a power switch- a multifunction button and a pair of volume buttons where each one is of different size— perfect for controlling the volume without creating any confusion. The back panel holds the earpiece and rubber tip, a slot for the pivoting ear hook and a small rubber pad near the front that rests against your cheek while wearing it.You can also pair the Q2 with two devices simultaneously. A full charge takes about four hours and the headset will tell you in the earpiece when the battery is very low. Battery life is average at 4 hours and 41 minutes of talk time.
USP: A superb sounding Bluetooth headset with accurate voice control and a comfortable fit.
Pros: Clear sound quality with effective voice control, comfortable design.
Cons: Quite expensive, noise cancellation still not up to mark, no iPhone app yet.
3. PS3 Bluetooth from Sony
Price: $39.9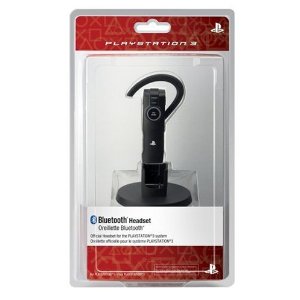 The PS3 Bluetooth Headset is an excellent and perfect headset for gaming. Having the giant mute button located openly on the side. This one has incredible quality, easily accessible mute button. Unlike other Bluetooth Headsets, if you plug it in directly to the PS3 using the port on the headset itself, it will sync automatically and give new options only available to this particular headset.
USP: A pocket friendly perfect bluetooth headset for gaming .

Pros: Easy to set up and use.
Cons: Battery life is comparatively low.
4. Jawbone Icon HD + the Nerd
Price: $139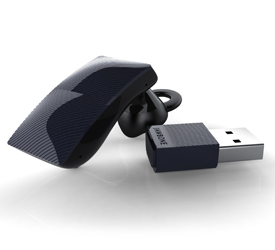 The Jawbone Icon HD + the Nerd are one heck of a pair. The Icon HD is highly capable high quality Bluetooth headset while the Nerd is a companion USB dongle for instantaneous, wire-free audio on any PC or Mac. It is a great choice if you want an easy way to connect a headset to both PCs and phones. The body of Jawbone is measuring 0.7 by 1.8 by 0.9 inches with the weight of just 0.3 ounces. The two-paneled textured front is in a rich shade of navy while the rest of the headset is black. There is a power switch on the back between the Voice Activity Sensor which controls the noise cancellation and the ear tip. Powering the device on or off is instantaneous and the location of this switch helps to avoid any accidental power-ups. There is a multifunction talk button on the back side of the headset. When you are not on a call you can get an audible battery alert by tapping on the headset's talk button. A full charging takes about 90 minutes and you will get 4 hours 56 minutes of talk time with such a tiny headset. Calls made over the Icon HD sounded smooth and natural on the other end and noise cancellation is strong.
Nerd is an inch long only. After plugging it into a PC or a Mac press a button on the Nerd for three seconds to enter pairing mode.Turn on the HD while holding the talk button and the two devices will automatically sync with one another.The Nerd requires no drivers or software while connecting. After pairing the HD to the Nerd you can just plug it into a USB port on any PC or Mac wire-free USB audio streaming.
USP: The Jawbone Icon HD + the Nerd is a two in one punch for users looking for a Bluetooth headset they can use almost anywhere.
Pros: Wire-free USB audio with the Nerd, great sound quality especially for A2DP, can run apps., attractive design.
Cons: Sound quality isn't as good as on some similar headsets.
5. Motorola CommandOne
Price: $70.34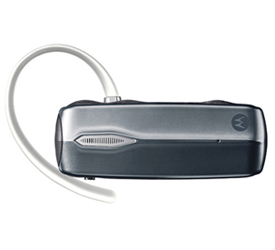 The stylish CommandOne measures 2.1 by 0.7 by 0.4 inches and weighs 0.4 ounces. It has an entirely plastic body. It contains total of five gel tips, the detachable ear hook and a solid hinged carrying case in the package. The rubber multifunction button is placed on the back edge of the headset. On the top there are a pair of volume buttons and a mute button while the bottom edge holds a power switch. The first time you power up the CommandOne the voice prompts walk you through the pairing process. The voice-based interface works in two directions. Saying "answer" or "ignore" while a call is coming in will trigger the appropriate command which is quite useful. Overall voice quality is really exceptional callers sounded crisp, clear, and loud in the earpiece.Battery life is average at 5 hours and 21 minutes of talk time. A quick 15-minute charge gets you 2.5 hours of talk time while a full charge takes about two hours.
USP: The Motorola CommandOne is a super-comfortable, solid Bluetooth headset with excellent sound quality.
Pros:. Battery life indicator pops up on i Phones.
Cons: Subpar noise cancellation.
6. Samsung HM3600
Price: $59.99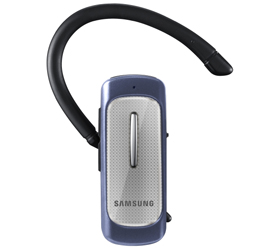 Samsung HM3600 bluetooth headset is a great blend of style, comfort and sound quality at a reasonable price. It's comfortable enough with a good battery life to wear all day. Its main body measures 1.9 by 0.7 by 0.4 inches and weighs just under half an ounce. The HM3600 is entirely made up of plastic with a tasteful mixture of matte and glossy surfaces in slate blue, gray, and black. The top edge of the headset contains a hardware power switch and a tiny LED. The back edge holds a covered microUSB charger port while the bottom edge contains a large sized pair of volume buttons. The front panel holds the multifunction Talk button.The plastic ear hook undetectable but the rounded, flexible design makes it comfortable to wear.The first time you power up the HM3600 it automatically get paired with the nearest handset and is also a multipoint device so you can pair it with two devices simultaneously.It gives you a continuous talk time of 11 hours 18 minutes.
USP: The Samsung HM3600 is a genuine Bluetooth headset that delivers high quality speech at a reasonable price.
Pros: Attractive design, comfortable fit, clear voice quality, voice prompt-based interface, long battery life.
Cons: Subpar noise cancellation, no podcast or music streaming.
7. Bose Bluetooth Headset – headset – In-ear ear-bud, Monaural
Price: $111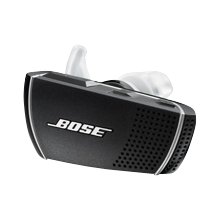 The first Bluetooth headset from Bose . It lets you hear clearly even as noise levels around gets change. No matter where you are – busy street, crowded lobby, airport terminal – your conversation is not going to suffer. The unusually light and compact headset. Stay Hear ear ti also provides comfort and stability while you're on the go. And simple, intuitive controls make it easy to take calls.
USP: Comfortable Bluetooth headset with balance between performance and design.
Pros: Provides long battery life,comfortable on the ear
Cons: Expensive one .
8. Plantronics Savor M1100
Price: $100
If you are a person always wanted to be in touch with your e-mail and Twitter feed, Plantronics Savor M1100 bluetooth headset is a correct choice for you. You can not only listen to e-mail and incoming tweets without a PC but can also send replies as audio attachments. Savor can also be used to listen to news, finance, sports or weather updates from sources like CNN and Yahoo. Savor M1100 has some extra abilities to provide you with online service which enables a variety of voice features. Before you can use the service you need to register your Savor M1100 through its unique activation code with the Vocalyst Website. The Vocalyst Pro service can convert your speech to text and send a text reply.
Once you power on the headset, you can answer or reject calls without touching it only by saying "answer" or "ignore" as a call comes in. Other commands require the press of a command button. The headset is light enough with just under a third of an ounce. It has a simple color-coded on/off switch.The unit can give you a plenty of audio feedback not only about it's powered on and linked to a phone but also announcing how much talk time is left in its battery, which can be up to 4 hours on a full charge. The Savor M1100 offers up to seven days of standby time.
USP: Useful headset gives you simple access to information when you're on the go.
Pros: Simple, easy-to-find controls, sophisticated voice-triggered services.
Cons: Vocalyst recordings not as clear as phone calls, not as loud as comparable headsets at top volume.
9. Jabra Extreme
Price: $40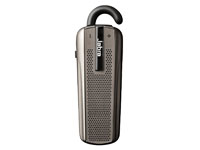 Black and boring is one way to describe the Jabra Extreme Bluetooth headset. The main attraction going for this headset is the price tag. The main control button- the Call button for answering, ending, and rejecting calls can be easily located and provides excellent feedback when pressed. It occupies the whole upper half of the headset.
USP: Despite the fit issues, the Jabra Extreme's advanced features, excellent noise cancellation, and affordable price tag make it a great Bluetooth headset.
Pros: The Jabra Extreme's features include multipoint technology and A2DP compatibility. It has a dedicated power switch and the call quality is excellent.
Cons: The Jabra Extreme has small volume controls and it didn't feel very comfortable in the ear.
10. Nokia BH-902
Price: $64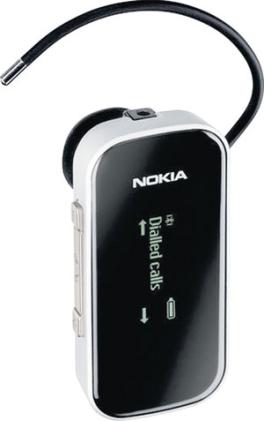 The unique feature of the headset is its LCD display which displays information including volume level and caller ID. This might seem a bit pointless since you can't see the display whilst wearing it but is handy if you take the headset off while you're in a meeting.
USP: LCD screen feature makes it unique in Bluetooth headset community.
Pros: Easy to control, sophisticated look.
Cons: Not having any additional advanced feature.